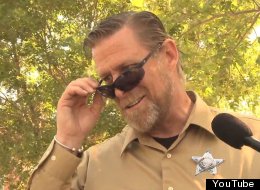 There has been no shortage of laughable anti-LGBT advertisements, and this ad (above) made by Citizen Link, a self-described "family advocacy organization," and Focus on the Family affiliate, is no exception.
The ad, titled "In The Eyes of the Law" was posted to YouTube on July 6th, and was criticized by the Human Rights Campaign for using "unfounded fear tactics to somehow claim that the President's support -- as well as the majority of Americans who support marriage equality –- equates to nothing more than a police state."
The idea that anyone could be written-up for not carrying a same-sex marriage license while driving is ridiculous enough in itself, but combined with the characters' odd mannerisms and line flubs, the microphone being visible in every shot and the WordArt "In The Eyes of the Law" overkill... all we can do is laugh.
Unsurprisingly, the video's comments section is disabled on YouTube... so tell us what you think in the comments section below.
For other ridiculous anti-LGBT ads, check out this sideshow:
The Worst Anti-Gay Marriage Ads Of All Time
Obama's endorsement of gay marriage means that any straight person can get arrested for not 'evolving' and carrying a same-sex marriage certificate will driving! It's logic, guys!

Gay marriage may seem harmless, but the National Organization for Marriage knows that this gathering storm that will take away straight peoples' right to not let gay people get married.

You will have to sit through four minutes of babies and terrible singing to get to the point of this ad from the Family Leader Network.

This pro-Prop 8 ad targeted the elusive homophobic hipster vote.

Carrie Prejean reminds voters that if we allow gay marriage, we're also allowing Perez Hilton toget away with being mean to beauty queens.

This couple and their sad couch turned up in anti-gay marriage ads from California to Maine. Watch the full interview for the details of the shocking incident that inspired them, in which their son's teacher read the students a book about two princes getting married.

This ad reminds us that same-sex marriage goes against God's mandate that all man and woman wear matching wrap dresses and play with leaves. It also suggests that gay people will attack your children.

Gay marriage will confuse children and force them to learn new things, which is not a part of growing up, at all.

Why can't we just respect people's right to hate gay people and also love opera?

Seriously, dude, think about it. But do you believe that either of these people know how to use the internet?

Love whoever or whatever you want, just don't force teachers to waste taxpayer money trying to explain "gay attraction" to children.