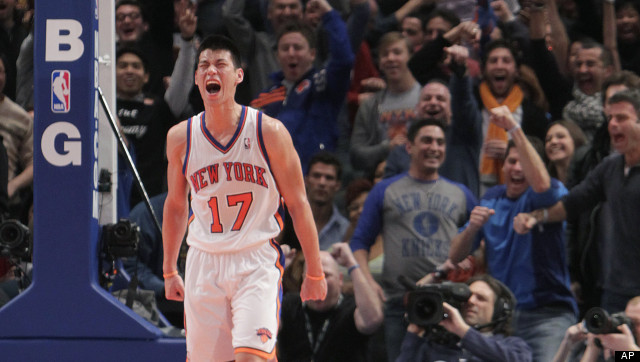 Some Knicks fans aren't ready to let Linsanity move on to another city.
In an effort to urge the New York franchise to match Houston's offer for Jeremy Lin, Knicks fans created a petition to keep him in blue and orange. It has already surpassed 11,500 signatures.
Jeremy Lin is the best thing that has happened to New York Knicks basketball in the last 20 years. With Jeremy Lin as the team's leader, the team won. He averaged 18 points and 7 assists as a starter - All-Star level performance. He has the largest fan base of any player in the NBA, by an order of magnitude. He's got the personality and character that fans love. He's the one player the New York Knicks need to keep, not lose. Don't let Jeremy Lin go - match the Rockets' offer.
New Yorkers quickly got swept up in Linsanity after a surprising two weeks in which the point guard scored 161 total points in six game. He even outscored Kobe Bryant in a home game with 38 on 13 for 23 from the field. After that, Lin suddenly became the biggest story in all of sports.
Fast forward to Tuesday, July 17 and the Knicks now have until 11:59 p.m ET to match the Rocket's offer that would pay Lin $25 million over the next three years.
Initial reports after Lin agreed to Houston's offer sheet indicated that New York would match any offer. But after the Knicks acquired point guards Jason Kidd and Raymond Felton, the thought of Linsanity continuing in the Big Apple seemed doubtful. The Knicks would also likely be hit with substantial luxury tax penalties if they match Houston's offer -- a deal that Carmelo Anthony called "ridiculous" -- which might mean that the price is too steep for them to match.
But that doesn't appear to be dissuading Knicks fans (and retailers) from wanting their team to keep Lin.