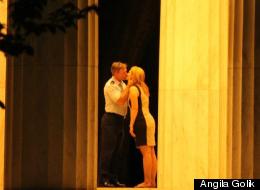 Last week, Huffington Post Weddings broke the story about photographer Angila Golik searching for a mystery couple she photographed mid-proposal at the War Memorial in Washington, D.C.
On Tuesday, the couple -- who didn't give their names -- released a statement asking for privacy, according to the Today Show.
It turns out that the man wasn't proposing after all. The couple became engaged two weeks prior, and were scouting locations for their upcoming nuptials on the night Golik photographed their encounter.
Golik says the moment is still magical to her.
"I am happy that we found them and I am still happy to give them the photos. It will make for a great story for generations to come," she told the Huffington Post in an email.
In their statement, released via Air Force Lt. Colonel Ann Knabe, the couple thanked Golik for the photos, and asked that their privacy be respected so they can "plan their wedding out of the public eye."
Golik posted a video to YouTube earlier this week asking for help finding the couple, and, respecting the couple's wishes for privacy, has since made the video private.
"I respect their wishes for privacy and therefore...cancelled all interview requests," Golik said. "I accomplished my goal of finding them for the photo and so there is no need to continue with the national news frenzy."
The video and Golik's photos went viral, attracting media attention around the globe in an effort to locate the couple.
Click through the slideshow below to see other proposal videos.
10 Viral Wedding Proposal Videos
Matt Still proposed to his girlfriend Ginny Joiner in this movie trailer--in front of an audience of more than 100 cinema-goers. Matt's elaborate proposal was even covered on CNN. The video, posted in May 2011, has been watched 19 million times to date.

Brooke and Josh got engaged on a rooftop, but not before Josh tripped and plummeted four stories! This death-defying proposal was posted in July 2011. More than 5.6 million people have watched it.

It's unclear whether this Disneyland "Fairy Tale" proposal is genuine or just a PR stunt. Regardless, nearly 4.2 million people have watched the video since it was posted in June 2009.

This guy proposed to his girlfriend, Claudette, with a fully-choreographed flash mob in the middle of New York's Madison Square Park. Apparently people love a choreographed public display of affection--3 million people have watched this video since it was posted in May of 2010.

Charles proposed to his girlfriend Ali on a trip to Spain in October 2009. To date, nearly 2.7 million people have shared in their happy moment.

This proposal didn't go quite as well as planned. The awkwardness begins at 1:20--try not to cringe. The unfortunate October 2008 video has been viewed 2.4 million times to date.

This surprise proposal didn't start out very well--Nikki is convinced that her boyfriend Justin is cheating on her. Thankfully, the proposal was part of the Fox reality TV show "Mobbed". More than 1.5 million people have watched this clip since it was posted in June 2011 (the show returns to Fox Nov. 23).

The bride-to-be isn't featured in this video from May 2008--but she did say yes. More than 1.1 million people have watched this proposal.

In this video from January 2007, a Fox News reporter spoils Boise State footballer Ian Johnson's surprise proposal to his girlfriend. But not to worry, the head cheerleader does say yes. More than 1.1 million people have watched it happen.

Ouch. This guy got rejected at a baseball game. He really feels the sting at 0:16. Since August 2009, more than 1.1 million people have shared his pain.