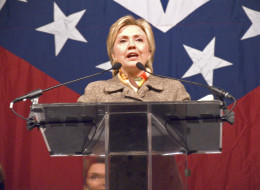 On Monday, Yahoo! named Google veteran Marissa Mayer, 37, president and chief executive officer of the internet giant. She becomes the youngest of a rarified group of female CEOs (there are only 18 in Fortune 500 companies). Mayer had already been named one of the 50 Most Powerful Women in Business by Fortune magazine; at age 33 she was the youngest woman ever included on the list.

To celebrate Mayer's achievement, Huff/Post50 put together a list of powerful women over 50 who inspire us, leaders in business, politics, media and more. Check out our slideshow below for just a sampling of some of the women who are shaping the world, and let us know who inspires you most in the comments.
Who: Dr. Hawa Abdi (65) Why: The Nobel Prize committee doesn't go around nominating just anyone for a Peace Prize. Dr. Abdi's NGO -- Dr. Hawa Abdi Foundation, which she runs with her two physician daughters -- was one of the first to open in war-torn Somalia, and has provided health care, services and education to more than 90,000 people in a country still divided by clan lines for more than two decades. The OB-GYN is a champion of women: she runs a program that discourages female genital mutilation and runs a small prison for men who beat their wives, The New York Times reports.

Who: Ann Sweeney (53) Why: In a world where young girls dream of being like Cinderella and Snow White, we can't help but think how cool it is that there's a more empowered model of a Disney princess to aspire to: Ann Sweeney. As the co-chair of Disney Media Networks and President of Disney-ABC Television Group, she is a woman in a predominately male business. Sweeney uses this platform to help organizations such as Cable Positive -- a group of CEOs who work with the media's resources in the fight against AIDS. Photo: Getty

Who: Oprah Winfrey (58) Why: Oh Oprah, how do we love thee? Let us count the ways ... besides being "arguably the world's most powerful woman," according to TIME, Oprah has a philanthropic compulsion to match her monetary earnings. Through her Angel Network and Oprah Winfrey Leadership Academy, she has supported women's shelters, built youth centers and homes, created academic scholarships and established more than 50 schools around the world.

Who:Virginia Rometty (54) Why: Ginni Rometty became the first woman ever to be named CEO at IBM last fall, taking the reins of one of the largest U.S. companies with more than 440,000 employees and a market cap of more than $213 billion. The 30-year company veteran is pushing IBM to work with emerging economies and local small businesses. TIME magazine named her one of its 100 Most Influential People In The World List this year.

Who: Hillary Clinton (64) Why: The secretary of state is a pragmatic, classy diplomat with an incomparable work ethic. Since becoming secretary of state in 2009, Clinton has logged 351 days on the road, traveled to a record 102 countries and flown a whopping 843,839 miles. "I think that she is brilliant at connecting with people on a political level," former secretary of state Madeleine Albright told the New York Times. "No question, she knows how to do what I think is essential: putting herself in other people's shoes."

Who: María Elena Salinas (57) Why: For more than 25 years, Salinas has co-anchored the immensely popular "Noticiero Univision," earning her the title "The Voice of Hispanic America," according to The New York Times. It's a well-earned title considering that the Emmy winner provides news and analysis to millions of Hispanics in 19 countries through "Noticiero"; a prime-time newsmagazine show called "Aqui & Ahora" ("Here And Now"); and a syndicated newspaper column, writes the Center for American Progress. Salinas will receive a Lifetime Achievement award along with her co-anchor at this year's Emmys.

Who: Angela Merkel (58) Why: Time Magazine had this to say about the chancellor of Germany: She has "a spirit of compromise in the service of a genuine ambition -- and fed by a desire for openness." It's a spirit that we're sure the chancellor -- one of the few women to hold high office in the world -- will tap into as she sees Germany and the EU through the current economic crisis.

Who: Jill Abramson (58) Why: Jill Abramson is the first female editor of the New York Times in the newspaper's 160-year history. The Harvard grad and longtime journalist and author has said she grew up worshipping the Times ("The New York Times was our religion," she told the New Yorker) and has proclaimed her dedication to her hometown with a subway token tattoo on her right shoulder. Abramson is revolutionizing the way women are viewed in media and publishing.

Who: Condoleezza Rice (57) Why: The former secretary of state and national security advisor did not forget the importance of strong educational roots. After her time concluded at the White House, Rice returned to Stanford as a Political Economy Professor in the Graduate School of Business. But Washington hasn't forgotten about Rice -- her name is being thrown in the ring as a serious vice president pick in Republican candidate Mitt Romney's 2012 election run.

Who: Gloria Steinem (78) Why: As the leader of the women's liberation movement, Steinem has been at this for a while -- and she's not backing down. She co-founded the Women's Media Center, the Coalition of Labor Union Women and Ms. Magazine. She is writing a book about her activism, with the working title of "Road to the Heart: America As if Everyone Mattered."

Who: Meg Whitman (55) Why: It's very manly at the top when it comes to C-suite positions at Fortune 500 companies. But this year saw a record breaking 18 women hold top positions -- and Whitman is CEO of one of tech's largest companies: Hewlett-Packard. The former eBay head has made a number of strategic positions to put the world's largest computer manufacturer back on top, Barron's reports.

Who: Valerie Jarrett (55) Why: Besides First Lady O herself, we doubt there's few closer to the president than senior advisor Jarrett. Jarrett wore many hats (businesswoman, lawyer, public policy expert) in Chicago before following the Obamas to D.C., but it's her role as the President's trusted friend that makes her an invaluable member of his staff. "Valerie is one of my oldest friends," the president told The New York Times. "Over time, I think our relationship evolved to the point where she's like a sibling to me... I trust her completely."

Who: Pat Mitchell (69) Why: Fast Company put Mitchell in its "League of Extraordinary Women" lineup, and it's easy to see why. As CEO and president of the Paley Center for Media, she's interviewed a number of female media influencers in her series "She's Making Media" and "is now a key connector of high-profile activists from Eve Einsler to...Jennifer Buffett," according to Fast Company.

Who: Indra Nooyi (56) Why: In today's global economy, being powerful means keeping an eye on investments here and abroad. But we don't have to tell that to Indra Nooyi. The chairman and chief executive officer of PepsiCo is shepherding the food and beverage company through its continued expansion in China, where PepsiCo just opened its sixth food plant in the country.