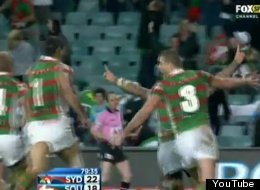 Have you ever wondered what the rugby version of the Tennessee Titans' "Music City Miracle" would look like? No? Well either way, the comeback that the South Sydney Rabbitohs pulled off against their rivals Sydney Roosters on Tuesday morning in Australia was nothing short of incredible.
Needing two scores in the final two minutes, Rabbitohs winger Nathan Merritt broke free at the 20-meter mark and dove across the line for the first goal. Down 22-18 on the ensuing kickoff, Chris McQueen received the first pass and dashed down the left sideline. After a few more laterals, the ball wound up in Adam Reynolds' hands in open space just beyond the 10-meter mark allowing him to score. The conversion sealed the 24-22 win.
"You can take me now I have seen it all!" the announcer screamed.
The win put the Rabbitohs into the top four and dropped the Roosters to No. 14 out of the 16-team National Rugby League ladder.