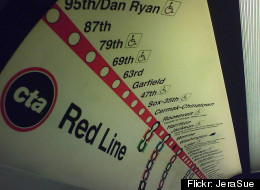 A Chicago teenager has been arrested in connection with a June 9 attack and robbery that left one man severely injured.
Police have accused the teen, a male, of robbing a woman of her iPhone around 10:20 p.m. on June 9, and attacking and beating her husband when he attempted to get the phone back, according to ABC Chicago. Police say other young people became involved during the beating.
"When we stood up my wife dropped her phone on the seat and one of them swooped in," the woman's husband, who declined to be named, told NBC Chicago. "I turned around and said, 'Give me the phone back.' He jumped in, so I made a lunge toward him and they all swarmed me."
The man was taken to Northwestern Memorial Hospital with cracked teeth and a broken orbital bone under his left eye after being punched repeatedly, MSNBC reports.
The 15-year-old boy was arrested around 2 p.m. Monday, the Chicago Tribune reports. An investigation uncovered Chicago Transit Authority surveillance video that helped identify the robber in the the incident, which took place on a station platform along the Red Line.
The teenager is facing felony robbery and aggravated battery charges, according to WGN.
Police are still looking for more suspects in connection with the attack, according to Fox Chicago.
Flickr photo by JeraSue.