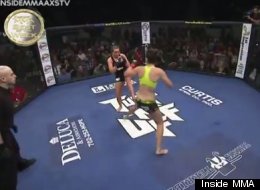 Maybe if Kim Kardashian was this tough then Ronda Rousey would think twice before getting in the cage with her.
MMA fighter Veronica Rothenhausler displayed her raw power earlier this month against Ashlee Evans-Smith in a battle for the Women's Featherweight Championship. She knocked out the 22-year-old -- who refused to touch gloves -- in just five seconds flat.
SEE VIDEO ABOVE
The bout was only Rothenhausler's third professional fight, and not much different from her second. Rothenhausler also ended that match in only five seconds via knockout, and now stands with a 3-0 record.