Adorable Kids Eating Ice Cream (PHOTOS)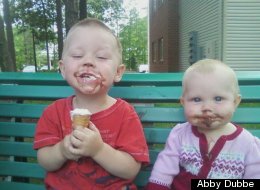 I scream, you scream, we all scream for... ICE CREAM. And the pictures that come along with it. Pair kids with sweet summer treats and you get chocolate smiles, vanilla sticky fingers, and (if you're really lucky) sprinkles on top. As if that's not enough of a reason for us to collect your best photos of kids and ice cream, there are also this summer's soaring temperatures -- you have to be living under a (shady) rock not to have noticed that it's been ridiculously hot. Plus, July is National Ice Cream Month, which could be the best idea for a month-long event ever, especially if you include eating frozen yogurt as part of the celebration.
Without further ado, we give you the first-ever HuffPost Parents ice cream social. See the cuteness below, then click "add a slide" to send us a pic of your kids. Don't have one to submit? Seems like an excellent reason to go out for sundaes.