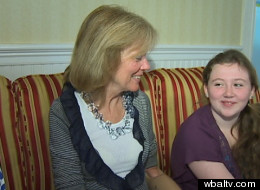 When a third-grade math teacher had all four limbs amputated, it was her students who taught her a lesson in moving forward.
After a blood infection led to gangrene in her arms and legs, Anne Mekalian lost all of her limbs and started a rigorous recovery process, wbaltv.com reports. But students of the beloved Baltimore teacher were so determined to get her back in the classroom that they immediately launched a fundraiser, which involved lemonade stands, an online fund and a video that is being turned into a documentary about Mekalian's ordeal.
"It's just really heartwarming, if you think about it," Mekalian told the news outlet. "This started out as a group of 8-year-olds, and how many 8-year-olds would have the idea to fundraise for a teacher?"
To date, the students have raised $13,358, according to the "Driving Mrs M" fundraising site. Their goal is to raise $52,000 so that the math teacher can afford to properly outfit her car and get back to work.
"When Mrs. Mekalian heard that we were planning a fundraiser for her, she surprised all of us by WALKING into our classroom to thank us," her students wrote on the fundraising website about their teacher who is learning to use prosthetics. "She made such a difference in our lives and we now want to make a difference in hers."
Feeling inspired? Learn how you can contribute to the Driving Mrs. M fund here.
Click through the slideshow below to learn more about Mekalian's story.
SLIDESHOW:
Students Fundraise For Quadruple Amputee Teacher
After gangrene led doctors to amputate all four of Anne Mekalian's limbs, her former third-grade students immediately stepped into action, wbaltv.com reports. They hope to raise enough money to help outfit a car for Mekalian that will enable her to return to work.

Through setting up lemonade stands and an online fund, Mekalian's students have, to date, raised $13,358, according to the fundraising website. They hope to ultimately collect $52,000.

"I was really sad, and I started praying and stuff because I was really scared and worried for her," former student Chris Warner told wbaltv.com

Mekalian is learning to get around with her new prosthetics, but is eager to regain her independence and return to work, wbaltv.com reports.

"Please help us make Mrs.Mekalian's wish come true," Mekalian's students wrote on her fundraising website. "She made such a difference in our lives and we now want to make a difference in hers."