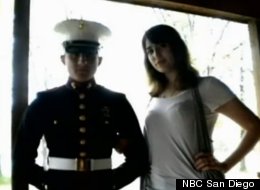 SAN DIEGO -- A woman charged with murdering a Marine's wife said she strangled the victim to keep her from another Marine who ran a kinky sex ring, according to search warrants unsealed Wednesday.
The documents shed light on a possible motive in the killing of 22-year-old Brittany Killgore, whose body was found in April near a Southern California lake. A judge ordered the warrants unsealed at the request of news organizations including The Associated Press.
Jessica Lopez said in a seven-page letter that she acted after the victim told her that she had a "whole night planned" with Louis Ray Perez.
Lopez, 25, said she then shot Killgore with a stun gun, wrapped a rope around a neck, buried her face in a pillow and strangled her.
"She barely moved but she just wouldn't die, the miserable whore," the letter said.
PHOTOS: Brittany Killgore (Story Continues Below)
This image provided by the San Diego County Sheriff's Department shows Brittany Dawn Killgore who was reported missing Saturday, April 14, 2012. Killgore, 22, was last seen on Friday and her cellphone was found Saturday in San Diego's Gaslamp District. Sheriff's deputies in San Diego County are searching for a Kilgore, and say it is likely foul play is involved. (AP Photo/San Diego County Sheriff's Department)

Jessica Lynn Lopez, right, is led out of court by a bailiff after her arraignment Thursday, April 19, 2012, in Vista, Calif. Lopez, 25, could face a maximum sentence of life in prison if convicted of killing 22-year-old Brittany Dawn Killgore, whose body was found April 17th in brush near a Southern California lake. (AP Photo/Gregory Bull)

Brittany Killgore's lived near the Camp Pendleton Marine compound in California. Her husband was deployed in Afghanistan at the time of her murder.

San Diego County District Attorney Bonnie Dumanis speaks at a news conference Thursday, April 19, 2012, in San Diego. Authorities have determined that a body found near a Southern California lake is that of Brittany Dawn Killgore, a Marine's wife whose disappearance has led to the arrest of another woman on suspicion of murder. (AP Photo/Gregory Bull)

Jessica Lynn Lopez was arrested at a Ramada Inn near the San Diego airport after a would-be suicide note she wrote gruesomely detailed how she slammed Killgore's body into the stairs, shot her with a stun gun and strangled her with a rope.
Lopez said she made "a few attempts to chop her up" with Perez's power tools and doused Killgore's body in bleach to get rid of evidence before dumping the nude body near Lake Skinner, near Riverside.
The documents give no indication that Killgore knew about the sex ring and prosecutors have described her as an innocent victim. Detectives said she accepted Perez's invitation to a San Diego dinner cruise after Perez helped her move that afternoon. The warrants do not say how Killgore met the suspects.
Killgore was last seen April 13 in a borrowed purple evening gown, three days after she filed for divorce from Lance Cpl. Cory Killgore, who was serving in Afghanistan at the time.
Lopez wrote that she believed Killgore was trying to come between her, Perez, 45, and Dorothy Maraglino, 36. The three suspects lived together at a home in Fallbrook, north of San Diego. All three have pleaded not guilty to murder.
Detectives found what they said looked like a "sex room/dungeon" in the Fallbrook home, with "several bondage type apparatuses; toys and tools." A former girlfriend of Perez told authorities she engaged in "bondage, whipping, spanking and cutting" with him and that another woman was once prevented from leaving the "sex dungeon."
In her letter, Lopez called Perez the "Master" and told police he wasn't responsible for the killing. Detectives found it in a San Diego hotel where Lopez was discovered with self-inflicted cuts four days after Killgore disappeared.
The handwritten letter - below a mirror that was scrawled with the word "PIGS READ THIS" - accused police of "complete incompetence." It is laced with profanity and poor punctuation.
"Master I am so sorry I dragged you into this," it reads. "I thought I was defending the family and it would be simple like Dexter (a serial killer in a television show). To Mistress I have always lived to be your slave & pet I'm sorry my last act is to leave this world without permission but I cannot bear your grief & my guilt at seeing Master go through this from my choice."
The letter says where the body was dumped, telling police they would likely find handcuff marks on the wrists. It says the handcuffs and a knife were disposed at a beach restroom in Oceanside.
Sloan Ostbye, Lopez's attorney, didn't immediately respond to a phone message Wednesday. She joined the San Diego County district attorney's office in an appeal to keep the documents sealed, calling much of her client's letter "false or at least misleading and possibly delusional."
Three days after Killgore vanished, detectives searched Perez's mud-caked Ford Explorer and found a plastic bag with a stun gun, latex gloves and Killgore's blood. Perez's DNA was found on the stun gun.
The documents describe an elaborate ruse for Perez to conceal his whereabouts on the night Killgore vanished.
The Marine told detectives he picked up Killgore for the dinner cruise but instead dropped her off at a downtown San Diego nightclub. He said he couldn't find her at the club after parking and returned home.
Killgore's and Perez's cell phones remained in Fallbrook that night, contradicting his statement that he was in San Diego, according to authorities.
Killgore sent a text message to a friend that said, "Help," at 7:50 p.m., about 13 minutes after Perez picked her up. The friend asked if she was OK and insisted she call. About two hours later, the friend got a response, "Yes I love this party," which fueled suspicions because Killgore always texted `yeah' instead of `yes' and had said nothing about going to a party.
A transient found Killgore's phone at his feet when he woke up in the doorway of a downtown San Diego hotel that night. A San Diego County sheriff's detective said he believed Perez drove downtown to get rid of the phone.
All three defendants are being held on $3 million bail. A preliminary hearing is scheduled Aug. 21.