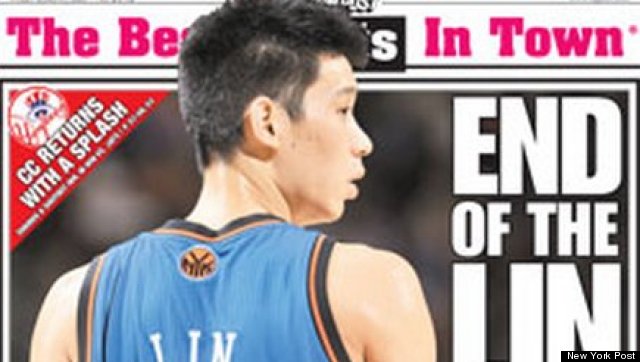 New York Post
Linsanity in New York City has come and gone. The Knicks decided not to match the Houston Rockets' offer for Jeremy Lin. While fans may be disappointed by the move, there may be another group in New York that wishes Lin were returning for another season at the Garden: the headline writers for New York Daily News and the New York Post. From the Post's "Linept" back page after the Knicks were embarrassed by Miami before the All-Star break to the News' "Lin Your Face" after the burgeoning phenom schooled John Wall and the Wizards, the New York tabloids seemed to revel in the Linsanity.
Of course, Lin's departure could make things somewhat easier for the rival papers. Not only is the pressure to produce puns lessened but so is the chance for a controversial misstep like the Post's "AMASIAN" headline.
Perhaps showing how quickly New York moves on from one hero to the next, the Daily News barely gave Lin the time of day on the front page, only leaving a small space at the bottom for the story. They saved "Lin Star State" headline for the back page, while the Post didn't even bother to mention him on the front cover.
Scroll down to see how the two of the major NYC tabloids reacted to the Knicks' decision.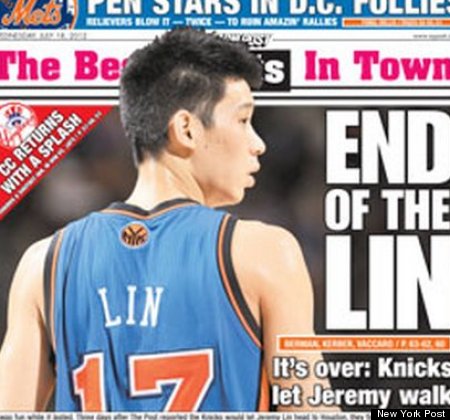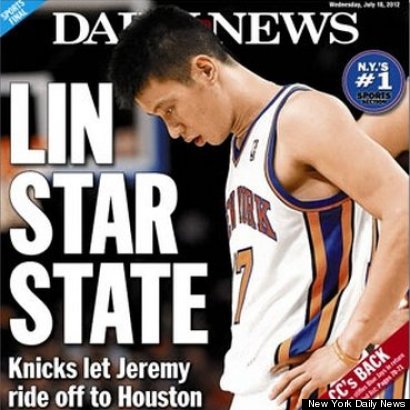 Here's how some reacted on Twitter to New York letting Lin go to Houston.
Reactions To Knicks Letting Go Of Jeremy Lin
FOLLOW HUFFPOST