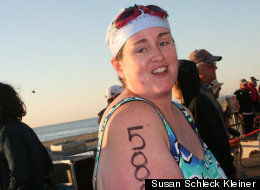 One of the reasons I started my website was to create a place where women can come together and dream. Women should know that they don't have to hang on to an old dream that has stopped nurturing them -- that there is always time to start a new dream. This week's story is about one woman who, despite 100 pounds of extra weight, finally decided she wasn't going to let her size stop her from living life. -- Marlo, MarloThomas.com
By Lori Weiss
While most of the kids in Susan Kleiner's high school algebra class couldn't wait for the bell to ring, Susan would have been happy to just keep doing equations. It wasn't that she was a math whiz, it was that she dreaded what came next: Gym. Susan was 40 pounds overweight and the idea of running laps made her want to run and hide.
"There was a trailer on the school grounds and I'd run behind it," she laughed. "I'd put my feet up on the steps so no one could see me, then wait for the other kids to run a lap, and hope I could just blend in when they circled back around the second time."
"My mom would go in for parent teacher conferences and all the teachers would tell her how great I was doing, except the gym teachers, of course. They would say, 'We just haven't quite figured out how to get her to move yet.' So I guess I wasn't fooling anyone. I was just so uncomfortable with my body, I didn't give myself a chance."
It's a battle Susan has been fighting her entire life and something she takes to heart. Her struggle with her weight never held her back from anything else -- not from dating, not from the school plays, not from extraordinary success in her career as an attorney -- just from becoming the athlete that inside, she was yearning to be.
"I'm not very good at athletics to begin with," Susan said, "but worse yet, I thought people would look at me and laugh. I could overcome just about anything with my sense of humor or my intelligence, but none of that helped on the athletic field."
And by the time she was approaching 40, after having two children, she felt even further away from that goal.
"After having my second daughter, I went back to work pretty quickly and I was putting in a lot of hours and not getting much sleep. I was last on the list. I wasn't even thinking about exercise. I was just trying to balance it all and that's when my weight started really creeping up."
Susan was now 100 pounds beyond where she wanted to be. "I had all these dreams of what I could do when I lost the weight. I had it in my head that when I lost 50 pounds, I'd do a 5K. My brother and his wife do them. The cool kids do 5Ks. And I wanted to be one of them. I still wanted to be one of the cool kids."
It wasn't just her cool brother and sister-in-law who ran -- lots of Susan's friends did too. And a couple of them were training for the SheROX Relay Triathlon in Asbury Park, New Jersey. So when they mentioned they were looking for someone to do the swim portion, which was a quarter of mile in the Atlantic Ocean, Susan wondered -- could it even be possible? Swimming was the one athletic endeavor she had loved, way back in elementary school.

"I asked how many laps in a pool that quarter mile would be," Susan recalled, "and they said 17. So I went to a pool, in my ruffled swimsuit, you know, the kind with the skirt that hides things, and I got in that pool and I swam and swam. I think I swam 25 laps. I was kind of amazed that I could do it."
And that's when Susan had an epiphany: that life was passing her by, as she waited to lose the weight. And she wasn't willing to wait anymore. So she signed up for the race.
"I started swimming several times a week," she said, "for half an hour or 45 minutes. My daughters created bead necklaces for me that I kept by the pool, so I wouldn't lose track of the laps. And then when we went to the beach for a week, I asked the lifeguards if I could swim from one guard station to the next. I wanted to get used to swimming in the ocean. I was certain of my swimming, but I was still terrified of the ocean aspect of it -- particularly the possibility of sharks. But I convinced myself, that since I wasn't the fastest swimmer, that if there were sharks out there, they'd probably eat someone else first."
But there was something Susan hadn't planned for. At a pool, you can slip out of your towel and into the water, without many people paying attention. During a relay triathlon, there's no towel waiting for you when you get out of the ocean. You have to run from the beach to the boardwalk, in just your bathing suit, so the team's biker can begin her part of the race.
"I hadn't planned on running," Susan explained, "but I had to move quickly. I didn't want to put my biker at a disadvantage because I was afraid for people to see me in my swimsuit. So there I was -- all of me -- running to give her the relay chip -- but I felt so triumphant after finishing that swim, that it changed everything."
It changed everything so dramatically, that Susan decided to jump into more than just the water. She signed up for a full sprint triathlon and began training to do the entire race -- a race that would challenge her not only to swim a quarter of a mile in open water -- but to bike 12 miles and run a 5K, just like the "cool kids".
"My mantra became Float. Roll. Stroll. Finish." she said with a smile. "That way I couldn't fail. I just wanted to finish, even if I finished last. I called the organizers and asked what time they closed the course –- what if I'm really slow? And they said 'We won't shut it down. We'll wait for you.'"
And they did -- cheering for her every step of the way. Susan was the very last racer to make it in, but she floated, rolled and strolled to the very end. Her friend Selena jumped out of the crowd to join her for the last leg of the race and another friend, Cristian, doubled back so he could be with her when she crossed the finish line.
"My daughters were waiting for me and my youngest was so excited that she was telling everyone, 'My Mommy is a triathlete and she never gives up.' It was so important for them to see me not give up -- that I could do something that was so hard for me, because I wanted them to know that we don't have to win at everything. We just have to try our very best."
Since then, Susan has stayed in the game. She's completed two other triathlons and right now she's training for races that will take place in August and September.
"This is a huge victory for the fat girl who was picked last in gym class. I may not look like the skinny girls, but this body deserves some applause. I'm trying to get healthy and losing weight is part of that quest, but we need to do the best we can with what we've got. And if that's what I'm doing, that's a good day."

"I'm never going to be in the Olympics," she said softly. "I may never even come in the top third, but I can be happy with getting out there. I don't need to be perfect. Float. Roll. Stroll. Finish."
If you'd like to follow Susan's journey or learn more about the triathlons she's competing in, you can visit her website at www.susansway.com.
It Ain't Over: Susan Kleiner
Susan Kleiner always had it in her head that once she lost 50 pounds, she'd run a 5K. But after years of struggling to find the motivation to get to the gym, Susan decided to start by doing the swim portion of a triathlon relay with her friends. Today Susan regularly participates in sprint triathlons. Here, she poses with friends Kate Harrison, left, and Kellie McGuire, right, after they all completed the Danskin sprint triathlon.

During her training, one of the hardest obstacles to overcome for Susan was the idea of swimming in the open waters of the ocean, or in this case, the lake. Here she is on the far left, wading into the waters of Peddie Lake at the start of the Hightstown Triathlon.

Once Susan signed up for a full sprint triathlon, she adopted the motto "Float. Roll. Stroll. Finish.", to help her get through to the finish line. Here, Susan just finished the swim portion of the Hightstown Triathlon and moves on the bike portion.

When she signed up for her first full marathon, Susan's one goal was just to finish, but she was afraid she would be too slow. So before the race she called the organizers and asked them what time they closed the course, in fear that they would end the race before she had a chance to finish. Here, Susan pushes her way to the finish line, while her friends are in the background cheering her on.

Susan had always imagined that she'd have to lose her extra weight before she could ever compete in a triathlon. But then her friends invited her to do the swim portion of the SheROX Relay Triathlon. Here, Susan poses (far right) before her first triathlon with her relay partners. Kellie McGuire (far left) did the bicycle portion, Nicole LeBron (center left) did the run, and Kate Harrison (center right), who completed the entire triathlon by herself, was instrumental in helping Susan train for the swim.

After the quarter of a mile swim in open water, there was no towel waiting for Susan. Because it was a relay triathlon, she had to run from the beach to the boardwalk, so that the biker could begin her part of the race. Here, Susan finishes the swim at the SheROX Relay Triathlon and moves to pass the race off to her teammate waiting to start the bike portion of the triathlon.

After successfully completing the swim portion of the SheROX triathlon, everything changed for Susan; she felt triumphant and inspired to take on a full triathlon by herself. Here, the ladies of the SheROX Relay Triathlon team pose after successfully completing the race.

Between having two children, putting in extra hours at work, and not getting much sleep, Susan had a hard time even finding a place in her schedule to fit exercise. But after years of putting it off, in 2010 Susan was 100 pounds over her target weight. Here, she poses with one of her two daughters.

After giving birth to her second daughter in 2003, Susan went right back to work and her extremely busy schedule. It was during that period in her life, when things seemed to be most hectic, that Susan really lost track of her weight. Here she poses with her daughter in 2003.

For Susan, it was her weight that had been holding her back from finding the athlete inside of her. And while finding a way to be comfortable with her own body was something she struggled with her whole life, her weight never held her back from anything else. Here, Susan poses with her brother Jaime Schleck at her college graduation in 1992.

Susan never felt like she was any good at sports, and she always felt like people would take one look at her and laugh. "I could overcome just about anything with my sense of humor or my intelligence, but none of that helped on the athletic field," says Susan. Here, she poses with her friend Helenrose Fives (left) in 1990.

In high school Susan was 40 pounds overweight and just the idea of gym class made her uncomfortable. So during those classes where the kids were made to run laps, Susan would hide behind a trailer on school grounds and wait for the other kids to do a couple of laps before she jumped in the crowd, hoping she could fool her teachers into thinking she had run the laps like the rest of the class.

When she was a child the one athletic endeavor Susan really loved was swimming. Here she is, at age three, with her swimmies on.

Here, Susan on her first birthday, with chocolate cake all over.
Add Marlo On Facebook:
Follow Marlo on Twitter:
Weekly Newsletter

Sign up to receive my email newsletter each week - It will keep you up-to-date on upcoming articles, Mondays with Marlo guests, videos, and more!

Sign up here