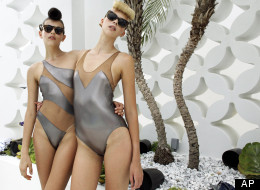 The swim suit models are back!
The highly anticipated Mercedes Benz Fashion Week Swim kicks off tonight, jump-starting nearly a week of swimwear fashion shows in the land of beaches and bronze bodies. But, with so many invite-only events, how is the rest of Miami supposed to join in the fun?
We've compiled 11 events that don't require any fancy schmancy invites. Throughout Swim Week, hit up Funkshion at The Tent in Collins Park for swimwear designs, sample sales, parties and fundraisers. Nab swag bags at the Melissa Odabash trunk show, and browse through seriously discounted designer threads at the Summer Sample Sale and the Salon Allure Sample Sale this weekend.
Want to watch the models in action? Hit up our fair city's nightclubs for fashion shows and afterparties -- maybe you'll rub shoulders with the designers themselves.
See all the events any swimwear lover can get into:
Join The Fun At Miami Swim Week
When: July 18 to 22 Where: The Tent at Collins Park, between 21st and 22nd Street on Collins Ave RSVP: swim@funkshion.com Throughout Swim Week, get an inside look at the newest styles from the hottest swimwear designers (think Liliana Montoya, Eco Swim, Julia Beli). Also, partake in sample sales, fundraising events, and jam to tunes from DJs. On July 19 at 9 p.m., find out who wins the Young Designer Award.

When: Thursday, July 19 at 9 p.m. Where: Soho Beach House Cost: $100 RSVP: Online Put your eye for fashion to good use at this party and fashion show raising funds for Style Saves, a nonprofit that helps South Florida's underprivileged students dress for success. Models donning looks from Trina Turk, Atrium, Papi and iShine365 will rock the runway, followed by a party, online auction and photo booth.

When: Friday, July 20 from 2 to 4 p.m. Where: Scoop NYC at the Shore Club Hotel Love free stuff? While rubbing shoulders with swimwear designer Melissa Odabash and fashion blogger Annie Vazquez, take home swag bags and sip on free cocktails.

When: Friday, July 20 at 8 p.m. Where: Chalk Miami RSVP: Online Swimwear for an oceanic cause! The collection of pop up shops, music, open bar before 9 p.m., and fashion show by Wet Peach, Tanya Marie Design and High Intensity Apparel will benefit Out of the Blue, preserving Biscayne Bay. Also, celebrate Stilo magazine's "The Prettier" issue.

When: Friday, July 20 from 8 to 11 p.m. Where: Bamboo Miami Beach RSVP: LilaNikole@taraink.com Designer Lila Nikole shows off her latest "Electika" collection with swimwear looks inspired by the Ultra Music Festival and --even better-- worn by Miami Dolphins cheerleaders. Trendy neon colors will pulsate through images of the music festival on LED screens to the music of Bonnie Beats and DJ Rob Dinero. Models hit the runway at 9:30 p.m.

When: Saturday, July 21 at 6:30 p.m. Where: Highbar at The Dream Hotel Cost: $100 RSVP: Online Fashion's Fight and the Wilkins Parkinson's Foundation come together for the first time to to further research for the disease. Hosted by Fashion's Fight founder and model Shannon Rusbuldt and Henry Santos, guests will enjoy cocktails, hors d'oeuvres and music from DJ Nova while scoping out the fashions from Luba Swimwear and biKa Swimwear.

When: Saturday, July 21 at 11 p.m. Where: Mokai Hit the beach to celebrate the California dreamin' designs of Vitamin A by Amahlia Stevens after her show with complimentary cocktails and music by Crespo, Stacie Todd and Triarchy. Hosted by Angela Martini.

When: Sunday, July 22 from noon to 8 p.m. Where: Collins Park At the sample sale, score great deals on pieces from the hottest designers, including Oscar de la Renta, Nicole Miller, Donna Karan and more. Looks will also be showcased at the Red Dress Fashion Show, with proceeds going to the American Heart Association. Also, vendors like Blo, Green Monkey, Vitamin Water, Taschen and Alessandra Gold will be showing off their goods.

When: Sunday, July 22 from 10 p.m. to midnight Where: STK Miami RSVP: lspaceparty@taraink.com Following the L*SPACE fashion show at Cabana Grande, celebrate with designer Monica Wise at the official after party. Make the Ohio native glad she escaped the north to the sunny world of swimwear!

When: Monday, July 23 at 11 p.m. Where: Haven Lounge To wash away your sorrows that Swim Week is over, head to Lincoln Road for the Closing Capsule Shows for designers Dorit, Naila, Anna Kosturova and KEVA I J. Celebrate with a video runway show , live entertainment, and one hour of signature cocktails

When: Saturday, July 21 and Sunday, July 22 from 9 a.m. to 6 p.m. Where: The Perry South Beach Peruse through dozens of designers' pieces, including Angela Martini, KOZA, Nina Swim and TAVIK swimwear, with proceeds benefitting our very own Miami Children's Hospital. The first day, Norma Jean Abraham, Tracy Mourning, and Lisa Pliner will host the shopping festivities. The second day, get a chance to meet fashion bloggers Annie Vazquez,Ginger Harris, and Ria Michelle.