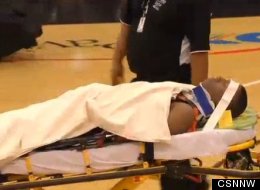 NBA Summer League games usually make headlines only when a player makes an amazing highlight or performance. Unfortunately, that wasn't the case on Tuesday when Portland Trail Blazers guard collapsed on the court after taking an elbow to the head.
In the clip above, Smith got the ball on a fast break with less than a minute remaining in the game. He drove to his left and went up for a layup with three Rockets defenders crowded under the basket. One of those defenders, Houston guard Zoran Dragic, appeared to inadvertently elbow Smith in the head. Noticeably shaken up, the former Duke star took a few steps off the court before collapsing to the floor.
Smith, who had 27 points and five assists, needed to be taken off the court on a stretcher and was diagnosed with a concussion at a Las Vegas hospital.
According to Joe Freeman of the Oregonian, Smith was released late Tuesday night after CT scan results came back normal.
After the game, Portland coach Kaleb Canales told reporters that he didn't see exactly what happened from his vantage point.
"The trainers were a little closer than I was," he said when asked if he communicated with Smith when he was on the ground. "Our main concern right now is Nolan and his family."