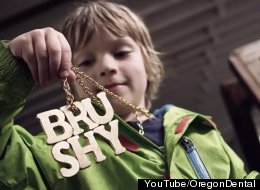 For children who have graduated from the Sesame Street school of tooth-brushing advice, there's a new, slightly more grown-up PSA floating around in the ether, courtesy of the Oregon Dental Association (ODA).
This particular clip shows brushing enthusiasts of all ages cavorting with their toothbrushes at school, at home and at the dentist's office. Why? Because "oral health 2012" is "how we do."
In our estimation, it's roughly 80 percent "Teach Me How To Dougie," 15 percent "Milk In My Sippy Cup" and 5 percent profoundly awkward.
The ODA is soliciting "brushy" photos and videos on its Facebook wall. Click here to find out more.