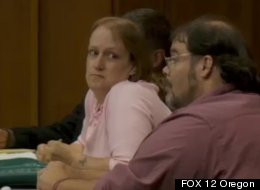 KELSO, Wash. -- The trial of a Washington state couple accused of mistreating five adopted children has begun with a 14-year-old boy testifying that his parents hardly fed him so he resorted to eating dog food.
The boy weighed only 50 pounds – half the normal weight for his age – when he and four adopted sisters were placed in protective custody in March of last year. Authorities say the Longview couple's four older biological children were well fed.
Jeffrey and Rebecca Trebilcock deny criminal mistreatment charges in the trial in Cowlitz County Superior Court in Kelso.