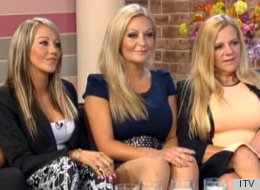 The family that gets saline together stays together?
That was the shocking news out of England a few weeks ago, as we met the ladies of the Marshall family who have all gone under the knife to pump up their cleavage, netting 13 breast implant surgeries among them. Well, save for 14-year-old Britney Marshall, who's attempting to sit out this family fad.
Whether you wanted a sequel or not, the very blonde Marshall family is back, making an appearance on ITV's "This Morning," sort of a British "Today" show. Join us on a wild ride through their TV spot, won't you?
Perched on the couch are mother Chantal, 53, and her daughters Terri, 27, Emma, 30, and Ripley, 21, who have collectively spent over £50,000 ($78,000) on cosmetic surgery, including breast implants for all the girls.
Chantal says she's a 32G now, having started her implant journey (sigh) after an initial breast lift didn't give her the amount of perkiness she wanted.
"I was delighted with them for the first eight weeks," she says. "But when the swelling went down, they just looked like balls in socks."
Moving over to daughter Terri, who's a 34HH -- the largest cup size of the group -- and rides horses for her profession, but says her enlarged assets don't hinder her work. "I like the full look -- the fake look," she explains.
Then there's Ripley, who took out a £2,250 (about $3500) loan to put towards her three boob jobs.
And now let's hear from teenage Britney, who's the only one in the family determined to buck the breast implants thing. "I want people to take me seriously," Britney says, "because I want a career." Cue gasps from her family and the hosts.
Did Britney's message sink in? Were her mother and sisters shocked into reality by the astute words of this precocious 14-year-old?
In the next discussion, Emma tells the hosts ardently that she wants a "bum job," aka butt implants.
Sigh. Can we just quit the Internet before the woman panhandling for HER boob job gets her own TV show?
Celebs who regretted their plastic surgeries:
"I wish I'd never had my breasts done the last time," she told New Magazine. "They've put these bloody great bags in that are too f***ing round--it's like a water bed on your chest."

"When I was 19, a doctor put in bigger implants than what I asked for. I was in such a hurry to get them that I didn't research my doctor," Richards told Us Weekly. "I just thought because they're a plastic surgeon, they must be good. You have to be your advocate for your own body and ask 100 questions." Later Richards wrote: "At 19 when I first got my breasts done, I wish that I was confident enough with my body to not have had surgery. That is something that I really want to encourage in my daughters, to embrace their healthy body and have confidence. I actually feel more confident in my skin now than in my 20's. Being confident is one of the sexiest qualities a woman can exude."

"Me and my friends found a doctor in Arizona that cost about $1,500 to get our boobs done--because they didn't use anesthesia and I didn't know it," McCarthy told WENN. In a later interview with Us Weekly, the former playmate said she was "too young" when she got her implants at 19.

In an interview with British Vogue, Victoria was asked about the absence of her "torpedo bazookas", to which the former Spice Girl reportedly replied, "gone".

In an interview with Now Magazine, Kimberly states her famous father was supportive of his daughter when she had the implants put in at 18, and even more supportive when she decided to get rid of them. She recalls, "He's very supportive of whatever I do. He was just like, 'If you don't feel comfortable, if you don't feel safe, just get them removed.'"

When she was 22, she got surgery to go from a B-cup to a C-cup. "It was so dumb... I just got the idea in my head one day, and that was that. There was no talking me out of it," said Kardashian in an interview with Us Weekly.

Last year, Staub had another surgery to correct a botched boob job she got done when she was younger. "She was very upset with her breasts," her doctor, Michael Fiorillo told, Us Weekly. "Scar tissue formed around the breast implant and that makes the implants hard, cold and deformed...the right one was almost up by her neck!"

Kim got her breast implants at age 20. Looking at pictures of herself on vacation in Miami last year, Zolciak couldn't believe what she saw. "My boobs looked crazy and saggy," she revealed to In Touch.

The Hills star -- now a size "E or F" depending on the bra had a staggering 10 procedures done in one day. "I'm obsessed with fitness but it's impossible to work out with these boobs," Montag told Life and Style Magazine. "It's heartbreaking. I can't live an everyday life."

"When I had implants, I felt uncomfortable," the former porn star told Us Weekly. "I would be shy at the beach. I know it sounds funny, but I'd wear high-necked clothes, unless I was at an adult-film convention. So I thought, 'why don't I be who I am and get my real ones back?'"

"I was a 34B, but the right one was always bigger than the left," she told Us Weekly. "He gave me Cs, and I didn't want them. At all."

"Well, I got my boobs done in my early 20s," Spelling told Good Morning America. "If I had known that it would or could possibly impact production of milk, I wouldn't have had them. I love being a mom. I am on my third baby. We want to have more. That's my role... these don't matter."