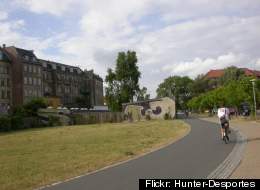 The Netherlands might be Europe's most bike-friendly country, but Denmark, where half a million people already cycle to work every day, is not far behind.
While the Netherlands already has five of its own bike highways, the new Copenhagen superhighway, part of an ongoing $47 million expansion of Denmark's bike transit system, gives commuters in the Danish capital even more incentive to ride to work.
According to The New York Times, the 11-mile route is equipped with air pump stations, foot rests and hand rails for fatigued bikers, and the "Green Wave" -- a supposedly endless succession of green lights, if you keep your speed at 12 miles an hour.
Treehugger reports that other features of the superhighway include homogenous signage and smoothly paved, broad, even paths that are kept free of debris and ice.
In this point-of-view video, a rider from the Danish social liberal newspaper Politiken tests out the route from end to end. Under fair use, HuffPost can only share one minute of the video here, but the full version is viewable on the Politiken website (in Danish).
As shown in the video, the superhighway is actually a patchwork of smaller routes. Some parts are fully dedicated to bicyclists, but bikers must share the road on other sections.
According to a HuffPost translation of the article, this fact led Politiken's test cycler to express dissatisfaction with the so-called "super"-highway.
"I did not expect that I was supposed to drive around on ordinary roads in surburbia," he told the newspaper. "I do not think you can call it a super road for bicycles."