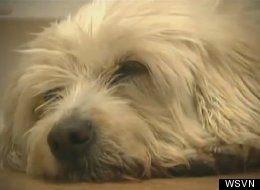 Can our city -- which is known for its vanity, crime, and deadly driving -- redeem its reputation by Miamians' commitment to rescuing animals in distress?
David Bernstein was stopped on the Brickell Bridge Tuesday night when he saw a terrier-mix dog jaunt towards the opening drawbridge, as first reported by CBS Miami.
Bernstein reportedly got out of his car, tried to get the bridge operator's attention to stop the bridge from opening, and finally pursued the puppy himself.
But he was too late, missing the animal by a foot, and the clamoring dog fell 5 stories down through the widening gap.
"Poor girl, she was trying to hang on to the grated surface here...and she just slid through the crack," Bernstein said.
Bernstein told CBS he looked for the dog under the bridge for an hour. The next day, he returned and spoke with a bridge operator who said the pup may have fallen in one the "tunnels" built under the bridge.
There they found the dog, covered in mud and oil, where it had been stranded for the last 12 hours. Bernstein took it to a local animal hospital, where a vet checked out in perfect health despite the long fall.
NBC 6 reports that the tunnels had not been drained recently, so collected water softened the dog's fall.
The lucky dog, who was sporting a pink sweater, is clearly not a stray. Bernstein hopes to reunite it with its owner.
Last month, South Floridians came to the aid of another animal in trouble. Sunny Isles beachgoers rescued a flailing hammerhead shark that appeared in distress on the shore. They placed the shark on the back of boogie board and towed it via a waverunner about a mile out into the ocean.