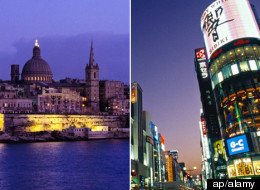 As HuffPost reported Tuesday, The Lancet recently released a series of reports on the state of physical activity -- or, more accurately, inactivity -- around the globe. Among the results? One in 10 deaths is now attributable to inactivity. But to find out just how inactive we were, as a species, Brazilian researcher Dr. Pedro C. Hallal from the Universidade Federal de Pelotas, compiled answers to 155 population surveys from 122 countries.
"In most countries, inactivity rises with age and is higher in women than in men. Inactivity is also increased in high-income countries," Hallal told The Telegraph. It's true that many affluent countries topped the ranking, though countries with great poverty, such as the Dominican Republic and Swaziland, also made it on the list. Also noteworthy were countries that are often associated with healthful lifestlyes: Japan, known for longevity and low cardiovascular disease rates, was in the bottom 25; Brazil, which is known for its strong sports traditions was also on the list; and several Mediterranean countries also associated with healthy eating and lifestyle were represented, including Italy, Spain and Portugal.
To collect the data, Hallal and colleagues aggregated responses to population-representative surveys. Respondents answered questions about their activity levels at work, at home, on transportation and during leisure time. Most countries used one of the World Health Organizations high-quality surveys, such as the Global Physical Activity Questionnaire or the International Physical Activity Questionnaire.
All but five countries had separate surveys for urban and country-living citizens and each survey had to include at least 50 people and be representative of the population. Those over the age of 15 were included in the adult surveys and some countries used surveys that included adolescents between the ages of 13 and 15 as well.
All told, Hallal and colleagues found that Malta was the least active country in the world, followed closely by Swaziland and Saudi Arabia. In fact, 71.9 percent of Maltese people qualified as inactive. To give some context, the United States had an inactivity rate of 41 percent and the country with the highest activity level, Bangladesh, had only 4.7 percent of its adult population operating with habitual inactivity. Other active winners include: Mozambique, with 7.1 percent inactivity; Benin, with 9.1 percent inactivity; Mongolia, at 9.4 percent and Cambodia at 11.2 percent.
Here, the 25 countries most in need of more exercise time -- any surprise you?
The Countries That Work Out The Least
71.9 percent of adults were inactive, making it the so-called 'laziest' country in the world.

In Saudi Arabia, 68.8 percent of adults were totally inactive.

In Swaziland, 69 percent of adults were inactive.

68.3 percent of adults in Argentina lead an inactive lifestyle.

In Serbia, 68.3 percent of adults were inactive, making it the second 'laziest' country in Europe.

66.3 percent of adults from Micronesia were inactive.

Adults in Kuwait had an inactivity rate of 64.5 percent.

Despite hosting the Olympics, 63.3 percent of U.K. residents are not taking a cue from their soon-to-be guests.

In the United Arab Emirates, 62.5 percent of adults were inactive.

Malaysia's adult inactivity rate was 61.4 percent.

Japan, despite its reputation for slim, long-lived citizens, had a high inactivity rate of 60.2 percent.

Exactly 60 percent of the Dominican Republic's adult population was inactive.

The population of Namibia had an inactivity rate of 58.5 percent.

58.4 percent of Iraqi adults were inactive, according to the report.

Among Turkey's adults, 56 percent reported an inactive lifestyle.

Among Cypriots, 55.4 percent were inactive.

Italians had an inactivity rate of 54.7 percent.

In Ireland, 53.2 percent of respondents said that they were inactive.

Among South Africans, 52.4 percent reported being inactive.

Just over half of Bhutanese adults were inactive, at 52.3 percent.

In Samoa, 51.1 percent of adults reported living an inactive lifestyle.

Just over half, or 51 percent, of Portuguese adults were inactive.

Among Spanish adults, 50.2 percent were inactive.

In the small nation of the Marshall Islands, 49.6 percent of adults had an inactive lifestyle.

Among Brazilians, 49.2 percent of adult citizens reported daily lives of inactivity.