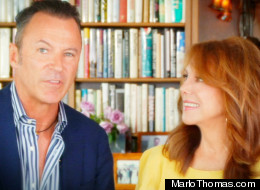 Colin Cowie, event and lifestyle expert, gave me tips for brightening up a room using accessories and other simple tactics when he visited Mondays With Marlo.
And if you'd like to see more from Colin, take a look at some of his decorating and entertaining tips:
Colin Cowie's Decorating And Entertaining Tips
Turn your patio into an instant party zone by stringing lights from tree to tree. You can also use tiki torches. Keep the mosquitoes away by putting citronella candles inside. It's all about lighting!

Play hotel when guests are coming to stay the night. Clean the guest room and put fresh sheets on the bed. Next to the bed, place a carafe of water, a glass, fruit and chocolate. The bathroom should be clean, with fresh towels, shampoo and body wash. Most importantly, leave your guest a note with their name that includes the Internet code, a guide to nearby attractions and the itinerary for the week. Fresh flowers also provide a nice touch.

If you're having a big party with guests who don't know each other, you can encourage your guests to mingle. Set up a beverage station and offer guests something to drink. Walk around from person to person and get people talking by introducing people who have something in common.

An all-day beach hangout will build up your appetite, so bringing tasty, portable foods along with you is important. For lunch, bring a roast beef sandwich wrapped in greaser paper. Cut the sandwich in half so it doesn't fall apart. For dessert, brownies and fruit (like cherries) are great options. If there is a grill available, barbecuing is your best option. Bring sides like pasta salad, bean salad and coleslaw to complete your meal.

When going to a housewarming, bring something that the host doesn't feel obligated to use like a bottle of wine, CDs, a book, olive oil, a beverage server, scented candles or a bottle of champagne. DO NOT bring flowers because they will have to find a vase and clip the stems. If you are sending flowers, send them in advance or the day after the party. Don't arrive with a baked pie - the host will feel like they have to serve it even if it doesn't go with their menu.

Bring everything you need up to the roof at once. Once everything is up, do your cooking. Bring things that are easy, like prepared barbecue items. The most important thing when you entertain is to make your guests feel welcome and comfortable. Offer guests a cocktail as soon as they arrive and make everything easily accessible.

Make sure send-off parties are centered around the guest of honor. If he's a football fan, give it a football theme. Everyone should come with a wish for what they want the college student to achieve in the next year. Whatever their interests are, build the party around that. Photo courtesy of Flickr user ercwttmn

When you're repainting, take a step back. What is the big picture of what you want the room to look like? Is it the whole room that needs to be painted? Pick up lamp shades, vases and pillows in the color you're painting so that the color scheme ties together with what you're trying to do. If you're thinking of using summery colors, watermelon, mango and pastels are great options.

Put one shot wonders on the menu, like a casserole that goes from the oven to the table and a big green salad. Another option is to take your own oven dish, give it to an Italian restaurant and ask them to make a lasagna in it. Take it home and guests will never know you aren't a star chef! Make one cocktail and keep things simple.

Great style comes from ruthless editing. Remove a color from the room. Pick one wall and paint it. Introduce a new color scheme. Update accents by picking out new pillows and lampshades.

Take one big idea and build around it. Give your space character by finding a bold wallpaper and doing one feature wall with it. It's not about the size of your space - it's about the energy you create. Mirrors can also serve as great accents.

In America, everyone eats hamburgers and hot dogs from the grill, but my favorite meat is lamb. Debone the lamb (or have the butcher do it) and combine rosemary, parsley, garlic and mustard. With rubber gloves, massage this into the lamb. Let it sit for 12 hours and salt it with rock salt. Cook it on a hot grill with the lid on for 15 minutes. Turn it over and let it cook for 15 more minutes, then let it cool for 5 minutes. It's delicious.

Get to the picnic location early to stake out a good spot. It's good to set up somewhere that is near a bathroom and not far from the shade. Take garbage containers along, as well as big sheets from discount stores to sit on. Use dish towels for napkins and bring handiwipes. Take a chiller box and put insect repellent and suntan lotions inside.

When planning an upscale picnic, bring along a big container of ice. Make a raw bar - stuffed crabs and oysters are perfect foods to bring along. Another option is to barbecue or bring pieces of poached salmon with yogurt and cucumber sauce for a classy outdoor meal.

Abundance is key when serving alcohol at an outdoor party. What works well is making a big batch of a fabulous drink like a margarita or my favorite, sangria.

Make your bathroom festive for guests at party: remove all personal items and add candles for a neat look. Include linen towels and put two garbage containers nearby for convenience. If you're entertaining a large group, paper towels are also an acceptable option.

When hosting a kid's party on a hot summer day, your main objective will be to keep people cool. Serve very cold beverages, use umbrellas for shade and provide lots of cushions for people to sit on (this way, guests won't burn their behinds). If there is a pool, keep the kids occupied with pool games. Ice cream cake is the perfect treat to serve.
Add Marlo On Facebook:
Follow Marlo on Twitter:

Weekly Newsletter

Sign up to receive my email newsletter each week - It will keep you up-to-date on upcoming articles, Mondays with Marlo guests, videos, and more!

Sign up here