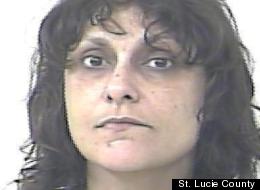 A Fort Piece woman picked a strange location to hide her glass drug paraphernalia, after being arrested by police on June 28.
Ronnie Ann Richards, 42, was being searched at St. Lucie County Jail when a body scan revealed an unknown object inside her vagina, according to an arrest affidavit obtained from TC Palm.
Even though Richards denied having any contraband, a strip search confirmed that a white object could be seen protruding from her genitals.
Officers demanded she remove whatever was placed inside of her and she handed over some tissue. Yet another body scan revealed that the unknown object remained inside Richards.
While Richards was held before being transferred to medical, an officer found a 3 and 1/2 inch glass crack pipe on the floor of the cell.
A subsequent scan showed that the prior object had been removed.
Click below for x-rays of the strangest objects ever inserted into the human body:
Stuck Up! The Strangest Objects Ever Inserted Into The Human Body
Doctors see a lot of strange things on the job, but perhaps no topic is weirder than the objects that find their way inside peoples' bodies, such as this pair of scissors. That's the topic of "Stuck Up!" a new book by Rich E. Dreben, Murdoc Knight and Marty A. Sindhian, a trio of medical insiders.

The book features 100 anecdotes of objects that made their way into the body. Usually the insertion happens either orally or rectally (as in the case of these glasses) but Sindhian says some insertions happen through the nose or the urethra.

Kids are more likely than adults to swallow coins, according to Sindhian, a forensic psychiatrist. Usually, they pass through without incident, but he knows of one case where a patient swallowed 50 coins and was at risk of toxic poisoning from the metals.

People have been swallowing or inserting unusual objects since the dawn of time, but the choice of objects has changed over the centuries. For instance, Sindhian doesn't think that any emergency rooms will be reporting cases of people inserting cassettes into their orifices any time soon....

...However, objects such as the iPod may become more common. Although Sindhian doesn't know what possesses a person to insert something like that into their body.

Many of the objects that get stuck inside the body were put there by people looking for sexual pleasure. That was the case with this electrical cord.

Some of the excuses are stranger than the objects. Dreben says some patients tell their doctor they were doing some type of household chore in the nude when they "fell" or "tripped" or "jumped into bed" and "landed on the object." Others explain that their predicaments resulted from sexual activity.

Sindhian says that alcohol is also a common excuse, but younger people will say that it happened because of a dare, or because they were attempting to seek sexual pleasure, as was the case with this Barbie doll.

Although most swallowing emergencies happen to kids, Sindhian says adults will often swallow engagement rings, mainly as a way to hide them. Luckily, they usually pass through without incident -- unless the other person finds out what happened.

Sindhian, Dreben and Knight hope their book keeps people from trying to shove their Buzz Lightyear action figure to infinity and beyond and also takes away the stigma of people seeking emergency treatment when something does get stuck inside their body.