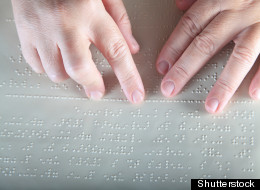 Approximately 11 million Americans are visually impaired, but when was the last time you saw a Braille menu in a restaurant? This summer, 15-year-old Sophie Trist, who has been visually impaired since birth, is working to change that, according to The Advocate.
"This can be a major problem for visually impaired individuals," Trist told the Louisiana Restaurant Association. "If a sighted persons does not accompany me, the simple task of ordering off a menu becomes a challenge."
Trist -- who was born without any eyes and with several other conditions -- began by mailing letters to about two dozen restaurants in Louisiana offering her services. She transcribes menus for just $20 using a Perkins Brailler, a machine that embosses Braille characters onto card stock. Several local restaurants have already bought Braille menus.
When The Advocate suggested she expand her business to chain restaurants, Trist wasn't interested.
"I'm not opening that can of worms," she explained to the local newspaper. "Remember, this is a one-woman business. My fingers can't handle worldwide work."
Click here to read the full story from The Advocate.
Watch Trist speak in the video below, which was filmed when she was in sixth grade. In the video clip, she talks about her love of reading and piano and her hopes for the future.
Two visually impaired teens also making headlines and inspiring communities recently are 15-year-old Kuha'o, whose unique talent for piano-playing went viral on YouTube, and 18-year-old Connor Boss, who became the first legally blind contestant to compete in a Miss Florida pageant.
"I don't like to use my vision as a crutch," Boss told NBC 6 Miami. "It's just something I jump over."
Are you inspired by Sophie's summer job? Sound off in the comments below or tweet @HuffPostTeen!