As injured victims of the horrific movie theater massacre -- what has come to be known as the Batman shooting -- are treated at Aurora-area hospitals, Denver Comic Con posted a heartfelt callout on Facebook for people to show their love and support for the community.
The in-memoriam post featured a special Batman blue ribbon graphic designed by Mark Rantal and also suggested one way for local Colorado residents help out -- by donating blood to Bonfils Blood Center.
See the blue ribbon below.
While Aurora community members are planning to gather for a prayer vigil Friday night, people worldwide have commiserated with the victims' families over social media.
The horrific shooting, which began around 12:30 a.m. during the midnight screenings of "The Dark Knight Rises" at Century 16 movie theater in Aurora, Colo., resulted in the deaths of 12 people and reportedly injured 59 others, ranging in age from 3-months-old to 45-years-old.
The suspected shooter, James Holmes, was taken into custody shortly after the incident. Holmes, 24, is a former graduate student of the University of Colorado-Denver.
President Obama spoke about the tragedy during what was expected to be a campaign event in Florida.
"There are going to be other days for politics; this is a day for prayer and reflection," he said before leading a moment of silence.
Aurora Police Chief Dan Oates addressed reporters Friday afternoon, providing the most up-to-date information on the tragedy. See the updates in the live blog below, and click through the gallery to view photos of the scene.
PHOTO: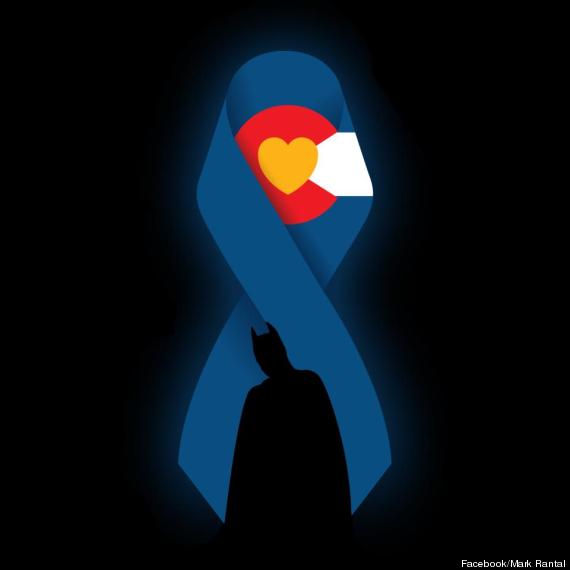 (Image via Facebook/Mark Rantal)
Related on HuffPost:
Batman Premiere Shooting At Century 16 Cinema
YOU MAY LIKE
CONVERSATIONS
FOLLOW HUFFPOST