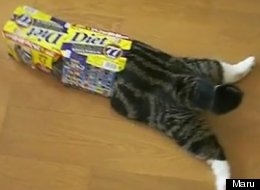 When it comes to cats that can be endlessly entertained (and endlessly entertaining) with a simple cardboard box, Maru is number one. But wait! The Internet is full of adorable video evidence that pretty much all cats love to play with boxes.
So move over, Maru. We've selected 13 of our favorite cat vs. box videos to offer you a much-needed dose of d'aww to end your week. Don't worry, we still included a couple of Maru's best, but browse the rest of our picks below and vote for your favorites.
Want more? Check out Cats vs. iPads, Cats vs. Cords, Cats vs. Vacuum Cleaners, Cats vs. Laser Pointers and Cats vs. Dogs.
We can't believe this cat survived.

Just wait for it.

"I'm going to fit!"

"I'll get your hand if it's the last thing I do."

Wherever their lives may lead them, they'll always have that box.

Since when do cats know about product placement?

"I finished my diet and now I fit into this lovely box!"

Whatever the cameraperson is doing is clearly very interesting.

This cat really is a big bully.

Three kittens are better than one.

That hole was specially cut for this cat.

"Why all this music when a cat is just trying to sleep?"

They won't stop a runny nose, but they will melt your heart.