Chicago Police Step Up Security At 'The Dark Knight Rises' Screenings Following Colorado Massacre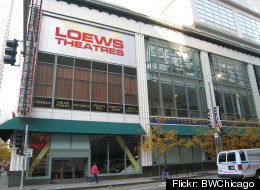 After 12 were killed and nearly 60 others were wounded in a seemingly random massacre at an Aurora, Colo. midnight screening of "The Dark Knight Rises," Chicago police say they are ramping up security at local screenings of the film.
The Chicago Police Department released a statement early Friday afternoon stating that it "extends its sincere condolences and prayers to the victims and families of the tragic incident in Colorado" and added that they will "remain vigilant in our enforcement efforts and give special attention to movie theaters throughout the City," NBC Chicago reports.
Nationwide, a number of theaters and police department have taken similar steps to increase security at showings of the film.
AMC Theaters announced late Friday afternoon that it is banning the wearing of face-obscuring masks or the bringing of fake weapons into its showings. Regal Entertainment will reportedly be requiring the checking of bags at its theaters.
Some local moviegoers said they were shaken up by the shooting. Those viewing a midnight screening at the Regal Stadium 14 theater did not learn of the shooting until after the film was over, according to Fox Chicago.
Chicago Mayor Rahm Emanuel's office invited its followers, via a Friday afternoon Facebook posting, to "join us in sending a message of condolence to the families affected by the tragic shooting in Aurora, Colorado. Our thoughts and prayers are with the community."
Police have identified the suspected gunman in the suburban Denver shooting as 24-year-old James Holmes. Authorities have given no motive for the attack.
Photo by bwchicago via Flickr.