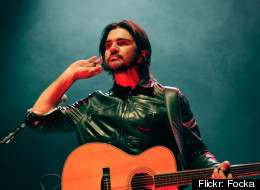 Baranquilla! Medellin! Bogota!
In honor of today's Colombian Independence Day celebration, we're taking a look at our 16 favorite Colombianos in Hollywood!
This gorgeous group of Colombian celebs includes global music superstars, stand-up comics, the highest paid actress on television, a former Miss Colombia, a reality TV judge, and a Ghetto Klown. We know what you're thinking: How can one country produce so much talent and beauty?
WITHOUT FURTHER ADO, CHECK OUT OUR SLIDESHOW & VIVA COLOMBIA!
Our Favorite Colombianos!
What can we say about the most famous Colombiana in the world? Shakira, who was born and raised in Baranquilla, wears her Colombian pride on her sleeve. Aside from representing Colombia all over the world with her immense talent, Shaki has also given back to her native country. In 1995, she founded the Pies Descalzos Foundation, a Colombian charity that provides education and meals for 4000 children.

Consider her crossover career a successful one! Not only is Sofia Vergara a three-time Emmy nominee for her hilarious work on ABC's "Modern Family," but the sexy Colombian star is also the highest paid actress on television!

Like Shakira and Sofia Vergara, "Project Runway" judge (and Marie Claire Fashion Editor), Nina Garcia was born in Baranquilla, Colombia. (Boy they sure know how to make them over there!).

Most people think that actor and stand-up comic John Leguizamo is Puerto Rican, but in an interview with Spanish newspaper "El Diario" last year, John's estranged father said that John is 100% Colombian. "My intention is to clear up this situation with my son John," Leguizamo's father, Alberto Leguizamo, said. "We are not Puerto Rican. I was born in Colombia and don't have any family in Puerto Rico."

Juanes, who was born in Carolina del Príncipe, Colombia, has 17 Latin Grammys and one Grammy, and has sold over 15 million albums! And like Shakira, the global superstar cares about others, which is why he created the "Mi Sangre Foundation," an organization which helps victims of anti-personnel mines. (Oh, and did we mention that in 2005 Juanes was named one of the 100 most influential people by Time Magazine?). Yup, he's that cool!

As the mysterious (and hilarious) character FEZ ("Foreign Exchange Student") on the hit TV comedy "That '70s Show"), Wilmer Valderrama played a foreigner whose real name and home country were unknown to fans. But in real life, Wilmer's fans know that the talented actor--and proud Latino--is of Colombian and Venezuelan descent!

You might know Andrew Keegan from movies like "10 Things I Hate About You" (1999), O (2001), and the TV shows "7th Heaven" and "Party of Five," but did you know that he's half-Colombian? Born Andrew Keegan Ocampo, Andrew is the son of a Colombian hairdresser named Lana. Even though he's never played a Latino, rumor has it Andrew speaks fluent español.

The proud Colombiana became only the second South American (and third Hispanic actress) to be nominated for an Academy Award, when she earned a Best Actress nomination for her understated work in "Maria Full of Grace" (2004). Catalina was born in Bogota, Colombia.

The Miami-Florida native, whose father is Colombian, made Complex Magazine's list of the 50 Hottest Colombian Women and we can see why: she's beautiful!

On CBS' hit show "The Good Wife," Makenzie Vega (who is Alexa Vega's younger sister), plays Grace, Alicia (Julianna Margulies) and Peter's (Chris Noth) naïve teenage daughter. If you've seen this gorgeous Colombiana act, then you know that talent runs in the family!

Did you know that this native New Yorker, who plays homicide detective Javier Esposito on ABC's hit drama "Castle," is a proud Colombiano?

The proud Colombiana not only represented Bogota in the Miss Colombia beauty pageant (which she won in 1991), but she made it all the way to the 1992 Miss Universe competition, where she finished as the runner-up. More recently, the stunning Colombiana starred as a powerful, 17 Century witch on HBO's hit show, "True Blood," and she also plays Adrian's (Francia Raisa) mother on ABC Family's hit series, "The Secret Life of the American Teenager."

Few people know that Adam Garcia--an Australian actor who is best known for his role as Kevin O'Donnell (Piper Perabo's boyfriend in the hit rom-com, "Coyote Ugly") is half-Colombian. Although Garcia was born in Wahroonga, New South Wales, Australia, his father is from Colombia!

The Bronx, NY native, was best known as a judge on "Last Comic Standing," and regular appearances on Comedy Central. Giraldo, whose parents hailed from Colombia and Spain, was just 44 years old when he passed away in September of 2010 from a drug overdose. He will always be one of our favorite Colombians.

In the stoner comedy, "Harold & Kumar Go To White Castle," Harold Lee (John Cho) is head over heels in love with his neighbor Maria (played by Paula Garces). And we can see why! The 38-year-old actress, who was born in Medellin, Colombia, is gorgeous!

The former "Hannah Montana" star was born in New York, but his mother hails from Medellin, Colombia. Moises, who had a small role in the Jack Black movie "Nacho Libre" speaks fluent Spanish! and he told FoxNewsLatino.com in February that he loves visiting Colombia. "It's very fulfilling, it's magical," Moises said. "I think Colombia is beautiful, the women, the food, the people, everything about Colombia is awesome." We agree!