The strategic decision by the Romney campaign not to define him personally -- not to inoculate him from inevitable attacks -- seems a perverse one. Given his campaign's ample financial resources, the decision not to run biographical or testimonial ads, in effect to do nothing to establish him as a three-dimensional person, has left him open to the inevitable attacks for his work at Bain Capital, on outsourcing, and on his investments. It's all rather inexplicable. Aside from a single spot aired in the spring by the pro-Romney super PAC Restore Our Future, not one personal positive ad has been aired on Romney's behalf. The view that any day or dollar spent on talking about anything other than the economy is a waste has been taken to such an extreme that Romney has no positive definition other than that of being a rich, successful, and presumably smart businessman. People see and feel the reasons for firing Obama every day in the economic statistics and the struggle that so many Americans face daily. The Romney campaign seems focused on reinforcing a message that hardly needs reinforcing, while ignoring a clear and immediate danger to its own candidate's electability.
The answer to the latter question, in fact, is no, which highlights the second limitation of fact-checking. Readers are often frustrated with the narrow and seemingly pedantic nature of fact-checking by watchdogs like PolitiFact and Factcheck.org, which typically focus on the specifics of a given claim rather than the larger issue or debate in question. But there's a good reason for the narrow focus of the genre -- broader questions about significance and responsibility are simply beyond their purview and cannot be answered within the realm of facts.
Romney leads Obama among respondents by a margin of 49 percent to 41 percent on who can best handle the economy and jobs. People who think the economy is getting better dropped from 33 percent in April to 24 percent now -- owed largely to a series of bad jobs reports.

Obama is perceived as the candidate who can best help the middle class, with 52 percent citing the president on that question, including 15 percent of Republicans. But even then, he gets a heaping of blame for not turning the economy around. Almost two-thirds of respondents said the president's policies contributed to the economic downturn. Only 17 percent of respondents said the president's policies on the economy were "improving it now."
In other words, the very rich had a bad 2009, but an incredible 2010. Their share of national income bounced back to 19.77 percent. So inequality is marching upward once again. And there's reason to believe this will keep going.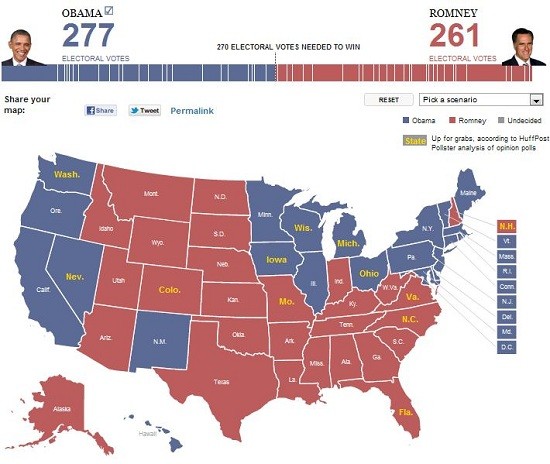 SUBSCRIBE TO & FOLLOW TRUMP'S FIRST 100 DAYS
How will Donald Trump's first 100 days impact YOU? Subscribe, choose the community that you most identify with or want to learn more about and we'll send you the news that matters most once a week throughout Trump's first 100 days in office. Learn more