Nick Stern's 'You Are Not Banksy' Continues, With More Real-Life Versions Of Banksy Graffiti (PHOTOS)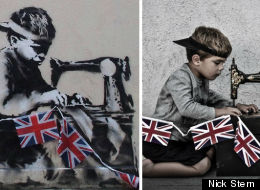 LA-based photographer Nick Stern has made good on his word and released 11 additions to his "You Are Not Banksy" series. These new recreations of Banksy graffiti starring real people and objects in place of the drawn originals include an appropriation of an appropriation -- Stern's version of Banksy's version of Keith Haring's barking dog.
Stern tells Huff Post Culture he was extra industrious this time, making a machine gun from a sprinkler tube, finding a $30 vintage sewing machine on CraigsList, and snagging a real Navy Seal to play a soldier (in the one with the peace sign). Click through all 11 below, and check out the first installment below that. If you're interesting in buying anything, Stern's got a store.
Click through part 2 of "You Are Not Banksy":
Here's part 1: