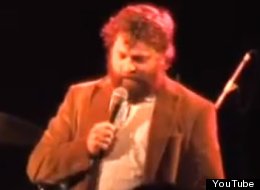 No one heckles quite like hecklers at a comedy show. You wouldn't hear someone yell their opinions at a solo jazz performer or a ballerina, but when an audience sees a funny person standing on stage with a mic, there's often one or two people who demand to have their voices (usually drunk voices) heard.
The recent Daniel Tosh incident reminds us that the way a comedian responds to a heckler can become an issue outside of the club. There's also a great documentary about hecklers on Netflix that highlights the many ways hecklers can be dealt with, and a wealth of video evidence on YouTube.
Below you'll see 19 examples of how comedians can handle a heckler, including brutal takedowns, full-on breakdowns and some ridiculously witty retorts. From Mitch Hedberg's gentle chat to Bill Hicks' expletive-filled rant, there's more than one way to handle a heckler -- some more effective than others.
Comedians Confronting Hecklers
Schumer shuts her heckler down quickly, plus she makes up for it by not having the woman thrown out. Bonus points for the "Searching For Bobby Fischer" reference.

Why do hecklers heckle? They usually just want attention. Brand gives his heckler what she wants and hands her the mic. She wishes herself a happy 30th birthday. The crowd does not.

When a heckler decides to speak up during an album recording, the comedian has even more pressure to handle the annoyance in a funny way. This incident at Patton Oswalt's recording for "Werewolves & Lollipops" became one of the album's funniest tracks.

Hedberg calls up his heckler onstage and has a nice little rapport with him. We miss you, Mitch.

This is far from Mitch Hedberg's gentle chat. Rogan berates a young woman who continues to talk to him. If you're a heckler this is just about the worst it can get.

Some guy is REALLY upset about Cross selling his book at Barnes & Noble. Cross handles the situation with aplomb.

Galifianakis keeps it pretty cool, chatting with his heckler. He gets a few harsh jabs in but in the end goes with the old standby: "Shut up!"

A heckler asks Miller about his performance in "Get Him To The Greek." Bad move.

Todd Glass gets SERIOUS while telling a heckler that she doesn't know how to treat people in this high-octane rant.

Kilmartin really breaks down what happened to her after a heckler throws bread at her on stage.

Someone yells "Bullshit!" during Pryor's joke. Pryor doesn't miss a beat.

"I want you to go find a fucking soul!" is the tamest thing Hicks screams at a female heckler.

"Nobody paid to hear your stupid ass."

A heckler finds it really important for Kennedy to know that a waitress should actually be called a "server." "Well, I'd like you to serve your mouth shut," he responds, among other things.

Burnham has no idea why someone would heckle an "18-year-old kid that's following his fucking dreams."

Fitzsimmons makes fun of his heckler's lack of originality.

This is a long one, but it's worth a watch. Burr uses the remaining 11 minutes of his set to seriously rip into the unruly Philadelphia crowd. No sports team is left unscathed -- even Rocky gets hit.

Tosh simply cannot handle two drunk hecklers in the front row. Eventually he makes them move.

The famous clip from "Louie" where Louis C.K. devastates a heckler (played by the lovely Megan Hilty).