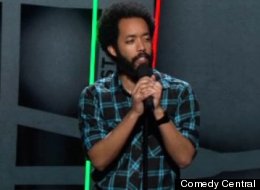 Sometimes, it's nice to have a reminder that for every Daniel Tosh rape joke that gets made, there are thousands of alternatives that we can see on TV nearly every night. And this week was a good one for stand-up: Not only did we see the likes of Todd Barry and Ted Alexandro do stand-up on CBS, we got some great panel from Louis C.K., Marc Maron and Jen Kirkman.
Plus, Sebastian Maniscalco performed on "Conan" to promote his upcoming Showtime special, and newcomer Cristela Alonzo did great on "Conan," too.
Finally, the second season of "John Oliver's New York Stand-Up Show," Comedy Central's new show showcasing some of the funniest stand-up comedians in America, debuted this week as well. What a week!
The great Todd Barry talks about why he'd love to get locked up in a Belgian prison, and the worst advantage of being in a frat.

Louis C.K. drops by "The Daily Show" to explain why the discourse surrounding Daniel Tosh's infamous "rape joke" is a good thing.

Cristela Alonzo makes her late night debut by talking about how "16 and Pregnant" is both the best and worst thing in the world.

Ted Alexandro tells a story of getting propositioned by a much younger woman. (To watch this one, hit "play" and then click the button marked "Ted Alexandro" at the top of the frame to jump to his segment.)

Wyatt Cenac talks about racism in the "Star Wars" movies.

Marc Maron was one of the panelists on "Chelsea Lately" last week, which was a surprise, but he was great. He, Jen Kirkman and Bobby Lee discuss a guy who got arrested for tricking a woman into letting him suck her toes in a Wal-Mart.

Sebastian Maniscalco riffs on the ridiculousness of Craigslist.

Professional stand up comic Lisa Corrao discusses how to deal with bombing in stand up comedy.