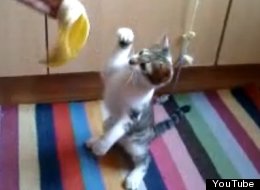 There's really no reason why any living thing should be fighting with food, but when it comes to cats and banana peels or dogs and lemons, for example, things can get pretty heated.
Thankfully, some pet owners have found the time to upload videos to YouTube featuring their cats and dogs fighting with their food. Sometimes it's dramatic, like the kitten vs. two apples. Sometimes it's just confusing, like the cat that's terrified of a lemon. And sometimes it's juts amusing, like pretty much all of the 13 videos below.
So continue your hopefully lazy Sunday with the 13 animal vs. food battles below and vote for the funniest ones. And if you're not having a lazy Sunday, you'd better get on that.
Want more? Why not check out Cats vs. Boxes , Cats vs. iPads, Cats vs. Cords, Cats vs. Vacuum Cleaners orCats vs. Laser Pointers slideshows we've made just for you.
"Give me this cake!"

A boxer is born.

The music + the manic cat = perfection.

Warning: this gets super loud, very fast.

He's worried he might have scurvy, so he needs to catch the lemon.

That rug makes it really hard to keep track of the one fruit loop.

This cat is disgusted!

"What can I say? I know what I like."

Pepsi isn't technically a food... but it's also not technically a fortress.

"I'll start my diet tomorrow!"

"How did they make this shape?"

"Let me at it! Let me at it!"

"OMG a delicious treat.... WHAT IS THIS?"