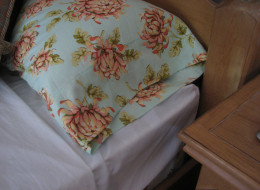 On cooler summer days when you can skip on running the air conditioning, a ceiling fan can provide air circulation and comfort to your rooms. Unfortunately, when the fan's not in use, it collect dust and other air particles that will scatter everywhere the moment you turn the fan back on. To avoid those allergens, it's important to clean your fan regularly, and we've got just the tip to help with that.
First, turn the fan off. Then, fill a spray bottle with water and two tablespoons of distilled white vinegar. Next, spray the solution inside a pillowcase. Then, carefully stand on a ladder and slip the pillowcase onto each blade, wiping it clean by trapping the dust in the case. Finally, use a damp cloth to remove any residual grime.
Have something to say? Be sure to check out Stylelist Home on Twitter, Facebook and Pinterest.