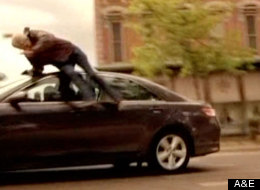 Deputy Vic Moretti (Katee Sackhoff) had a close call on "Longmire" (Sun., 10 p.m. ET on A&E) Sunday night.
Vic was chasing a suspect who escaped by jumping into a car. As she yelled "Go!" the driver floored it and hit Vic.
Although initially she seemed pretty badly hurt, thankfully Vic's injuries turned out to be pretty superficial.
Viewers tweeted that they were loving Vic and the show, with one fan saying "#ToughChicksRule."
The drama continues on "Longmire," Sundays at 10 p.m. ET on A&E.
TV Replay scours the vast television landscape to find the most interesting, amusing, and amazing moments - and delivers them right to your browser.