She was shot in the neck, and it punctured a vein and immediately she started spurting blood. And apparently as she dropped down on the floor, Stephanie -- 21 years old -- had the presence of mind to drop down on the ground with her, pull her out of the aisle, place her fingers over where she -- where Allie had been wounded, and applied pressure the entire time while the gunman was still shooting.
Obama continued: "Because of Stephanie's timely actions, I just had a conversation with Allie downstairs, and she is going to be fine."
Now, we have a photo of the meeting where that conversation took place, with the president hugging Stephanie and Allie recuperating: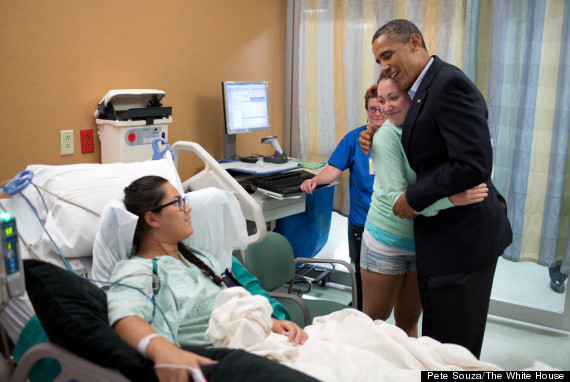 Also on HuffPost:
Obama Visits Colorado Shooting Victims, Families
SUBSCRIBE AND FOLLOW
Get top stories and blog posts emailed to me each day. Newsletters may offer personalized content or advertisements.
Learn more