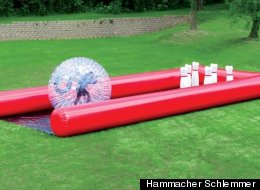 What do an $8,000 water slide, $700 roller skates and a $100,000 "Free Willy" submarine have in common? Aside from being items that'll probably show up on Rich Kids Of Instagram, they're perfect toys for adults in the coveted "one percent."
Ranging from the outrageously priced to the ridiculously extravagant, these totally unnecessary leisure products are way out of most working peoples' price ranges. Sure, we may never be able to afford half of the "luxury" items in Hammacher Schlemmer or The Sharper Image (didn't they go out of business, anyway?) but that doesn't mean we can't make fun of them.
Below, check out the 21 most ridiculous toys for adults in the one percent and vote for the funniest ones. Who knows? One day you might be the one driving a $13,000 motorized monocycle down the street (but be careful -- there's no way that thing's street legal).
Just another reminder that if you're rich, you can literally play God.

If they remade "Billy Madison" in 2012, we could definitely see this in his backyard.

A two-person watercraft that "breaches and submerges just like the Orcinus orca after which it is designed," according to the description. In other words: "midlife crisis."

Perfect training for the inflatable military.

Who needs a tree with a sturdy branch when you can have this floating island of fun?

You could send a few kids to college, go on about 50 tropical vacations or, you know, buy this for $200 grand. Your call.

How about this $700 concussion waiting to happen?

We see your race car bed and raise you THIS.

The fact that there's a box next to the price of this item that asks, "How Many?" may be the funniest thing about it.

This thing produces "up to 500 lbs. of finely granulated ice per hour." We'll just let that sink in.

We love how the description of this item starts, "Move over, old-school floating platforms," as if anyone doesn't think those are still awesome.

Smug expression not included.

Makes that alarm clock dock grandma got you for Christmas look like crap.

If you've ever seen a hamster in a hamster ball and thought, "Why not me?" Now is your chance.

Wayne and Garth could have NEVER afforded this.

This is a great way to remind yourself of your wealth while you're playing pool in your custom game room... in your house.

There's no way this thing takes quarters.

It's a street-legal motorcycle but only designed for "casual cruising and slow ride-bys." So, dream on "Tron" nerds.

In five minutes those kids are going to turn those chess pieces into over-priced whiffle ball bats.

For when you have all the money in the world but no friends to drive your speed boat.

No matter how continuous this golf course is, it's still probably a bad idea to put it in front of a glass window.