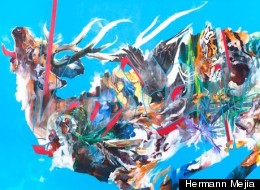 Today is the birthday of Simon Bolivar, the famous leader of Venezuela who played a key role in South America's successful bid for independence from the Spanish Empire in the early 19th century. So as citizens of Venezuela celebrate Bolivar's birthday, we'd like to highlight 15 artists who represent some of Venezuela's most important creative figures from his reign to today. From past artists like Martín Tovar y Tovar and Cristóbal Rojas to more contemporary painters, sculptors and architects like Carlos Cruz-Diez and Jesus Rafael Soto, the artists represent a broad survey of the country's recent art history.
Check out the slideshow of important Venezuelan art figures and add your favorite artists in the comments section below!
15 Venezuelan Artists You Should Know
Cristóbal Rojas was one of the most prolific Venezuelan painters of the 19th century. Influenced by Impressionist painters of Europe, Rojas's styles ranged from Romantic to Impressionist. In 1883, Rojas exhibited his "La muerte de Girardot en Bárbula (The death of Girardot in Bárbula)" in the Salón del Centenario to commemorate the birth of Simon Bolivar. IMAGE: Self portrait by Rojas, 1887.

Juan Félix Sánchez was an Andean folk artist born in Mérida, Venezuela. Among the media he explored were weaving, sculpture, and architecture. He is known for the work he did designing and constructing the Chapel of San Rafael de Mucuchíes, as well as several other small chapels. IMAGE: Wood Sculpture, of Christ, by Juan Félix.

Martín Tovar y Tovar was another high-profile Venezuelan painter during the 19th century. Tovar y Tovar's most famous works were depictions of famous battle scenes including the Battle of Carabobo, the Battle of Junín and the Battle of Ayacucho. IMAGE: Detail of La Batalla de Carabobo. Oil on canvas.

Gertrude Goldschmidt, aka Gego, was a modern Venezuelan artist and sculptor. She produced much of her most popular work in the 1960s and 1970s, dabbling in various media from lithographs to metalworks, focusing on concepts of line and space, then-popular themes of an era greatly influenced by geometric abstract and kinetic art. IMAGE: B&W Head Shot of GEGO, photographer unknown.

Armando Julio Reverón was a modernist painter of the late 19th and early 20th century in Venezuela. Much of his work was inspired by the landscape and people of Macuto, an area of the central coast of Venezuela. IMAGE: "La Cueva," 1920

Arturo Michelena was a Venezuelan painter born in Valencia. He was the first Venezuelan artist to succeed overseas and one of the most important Venezuelan painters of the 19th century. IMAGE: "Miranda en La Carraca," 1896

Carlos Cruz-Diez is a kinetic and op artist born in Caracas, Venezuela. Influenced early in his career by artists George Seurat and Josef Albers, Cruz-Diez has long experimented with color and perception, using the moire effect to produce feelings of motion and vibration in his work. IMAGE: A traffic roundabout designed by Carlos Cruz-Diez in Valencia, Venezuela.

The op-art sculptor and painter Jesus Rafael Soto was born in Cuidad Bolivar, Venezuela in 1923 and died in Paris in 2005. His work is known for its interactive nature, often encouraging observers to walk into, around and through his arty illusions.

Alejandro Otero was a Venezuelan artist, writer and overall cultural figure who focused on work that revised features of cubism and transcended realist concepts to create a new period of art making in his country. He also produced a number of public art pieces in various American cities outside of Venezuela. IMAGE: Mural by Alejandro Otero. Central University of Venezuela.

Yucef Merhi is a Venezuelan artist based out of New York who is considered the pioneer of Digital Art in his home country. Working on video game consoles, computers and touch screens, he exhibits written word and poetry through his tech-heavy creations. IMAGE: Yucef Merhi in New York City. Photograph by Doug Todd.

Balthazar Armas is a figurative artist known for his incorporation of industrial and urban themes. Born in 1941, the artist has been exhibiting since 1966. IMAGE: Balthazar Armas. "La Escena", Primer Premio II Salón Nacional de Grabado.

Jacobo Borges is a contemporary, neo-figurative artist born in Caracas, Venezuela. A painter, drawer, film director, stage designer and plastic artist, Borges was also a member of the El Techo de la Ballena (The Roof of the Whale) movement, which voiced discontent with the political and social conditions of the country in the 1960s. IMAGE: Venezuelan artist Jacobo Borges during an event in "Ciudad Banesco", Caracas, Venezuela.

Pedro Leon Zapata is an artist, humorist and cartoonist who has contributed to El Nacional, a newspaper known for its critical commentary on the political situation in Venezuela. One of his cartoons prompted Hugo Chavez to denounce Zapata's work. IMAGE: Pedro León Zapata´s Los Conductores del País Mural, Caracas, Venezuela.

Carlos Raúl Villanueva was a prominent Venezuelan architect in the 20th century who played a major role in the development and modernization of Caracas, Maracay and other cities across the country. Among his most important works is the Ciudad Universitaria, the main campus of the Central University of Venezuela, which is considered a masterpiece of modern city planning, architecture and art. IMAGE: View of "Tierra de Nadie" from the library, Ciudad Universitaria de Caracas. Photo by Alejandro Bárcenas (2005).

Hermann Mejía is a Veneuelan-born, New York-based painter, illustrator and sculptor who has contributed his work to DC Comics and MAD Magazine. IMAGE: "Deer Hunt," 2012, acrylic on canvas, 56" x 118"