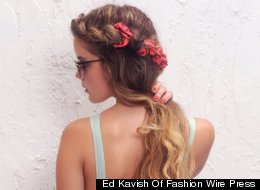 Last week, Mercedes-Benz Fashion Week Swim 2013 erected its pearly white tents behind the Art Deco doors of The Raleigh Hotel, buzzing with promises of new seasonal trends, leggy bronzed models, and bikini bottoms to make any butt look good. Five days, tens of designers, and one hundred degrees later, industry insiders emerged inspired (albeit sweaty) and ready to hit the sand in style.
The collections were undoubtedly to-die-for (Vitamin A, Mara Hoffman and Red Carter, to name a few), but this season's high-fashion-meets-beach-babe beauty stole the show.
Despite the heavy humidity, makeup artists weren't afraid of color, going bold with layered lids and electric lips. Beat-the-heat haute hairstyles ranged from up-and-off the face to ratted and amped-up manes cascading down bare backs.
While the 2013 collections won't be available until next year, you can rock these hot-off-the-runway makeup and hair trends all summer long. The best part? They're easy to recreate at home. Here, the behind-the-scenes details to this season's sizzling summer showstoppers:
6 Best Beauty Looks from Fashion Week Swim 2013
High heat was no match for Lottie for Make Up For Ever, who boldly penned a modern take on the classic cat eye. Working from the outside corners in, Lottie drew winged liquid lines along the upper eye rim, keeping lines thin towards the inner corners. She traced lower lash lines from the inside out, sure not to connect the upper and lower lines, which lent an updated edge to the look. (Continued)

Lottie paired the eyes with a smudge-proof, hot-pink pout, lining lips with Make Up For Ever's waterproof Aqua Lip #16 and topping them off with Aqua Cream #7. With so much going on with lips and eyes, Lottie kept the rest of the face faint, finishing with highlighter on cheekbones, brow bones, and the bridge of the nose.

Ruby-lip lovers can take hints from the summer-safe shade of red that graced models' puckers at Agua Bendita. Victor Amos, lead makeup artist for Bluffa Jo Cosmetics, pressed a rouge pout on lips using red lipstick and applying with fingers, giving lips a flush, bitten feel. He advised against liner and full coverage ("You're going to be at the pool and the beach--you don't want to worry about touch-ups," he explained). (Continued)

Topping off the sexy smile, Amos lined upper and lower eye rims with a water-resistant black kohl eye liner pencil (try Bluffa Jo Fiction Kohl Eye Pencil) and smudged the top line up towards the crease. Skin glowed from a very dewy finish ("She's supposed to look like she just came out of the pool," Amos says) from a heavy moisturizer topped and buffed with a cream foundation to lock in a sheer shine (for the show, Morganna's Elixir gave models a glistening base).

In keeping with the bold color trend, Make Up For Ever's James Vincent delivered smoky metallic glam that weathered the, well, weather. Smudgy, deep eyes with copper, gold, and champagne shadows flatter every skin tone, and impart a sexy shimmer to sun-kissed skin. The trick to making it stick? Opt for ride-or-die formulas that stand up to the heat like Make Up For Ever Aqua Black liner, which Vincent used to line the rims of the eyes. (Continued)

Next, Vincent blended layers of Make Up For Ever Aqua Cream in taupes, browns, and bronzes (try shades #12, #14, and #15) from lash to crease, and dusted Metal Powder #3 (a gold loose powder) on the inner lid. A Make Up For Ever Smoky Lash mascara finish made peepers pop. Cheeks and glossy lips were painted in washes of soft pinks and peaches to balance out the heavy eye, making this look a choice for sultry summer nights.

Heath Grout, US Creative Director for TIGI, grasped the essence of a beach-wave updo at Giejo, with several variations of the organically grown braid. The look easily translates from designer to everyday since Grout and his team worked with each individual model's hair type to give her a unique modification of the theme. Grout misted Catwalk Session Series Salt Spray all over dry hair avoiding the root to create gritty texture (achieving the same effect as a day spent at the beach). For the chain link, half-up-half-down version, Grout parted the hair above the right temple and brushed hair across the top of the head. Starting at the side part, Grout worked his way from the right side of the crown across the top of the head and down towards the opposite ear, knotting small, one-inch sections. Once knotted, sections were then braided into each other and secured under the ear with bobby pins. Dry shampoo (Grout swears by Catwalk Session Series Transforming Dry Shampoo) gave braids volume and a matte finish before Grout ran his thumbs upwards over the finished braids to create sophisticated messiness. Do like the pros and customize your coif with different braiding styles. Alternate between fishtail, three-plat, French, and chain link, and add fabric if you fancy (just anchor it with a pin before working into the weave). Don't worry about a perfect plat--the more unrefined, the better in this case.

Inspired by the military and marine themes at Agua Bendita, Tresemmé stylists Elsa Canedo and Marco Pena fingered a sleek, slicked-back-yet-relaxed hairstyle that proved easy to set and wildly beach-appropriate. Starting with dry hair, Canedo ran a dime-sized amount of strong-hold hair gel (Tresemmé Ultra Firm Control Gel does the job) through the crown and sides of the head, combing with fingers. After blow drying the top and sides to quickly set the gel, Canedo applied a smoothing serum (her choice: Tresemmé Split Remedy Sealing Serum) over the remaining loose waves and ends while avoiding roots. This allowed for volume and movement at the back of the head, while the controlled front kept hair off the face.

John-Paul Sherley Price, manager at Cutler Salon Miami, gave us the secrets to the sleek-and-polished, messy-and-loose bun at Aqua Di Lara. Starting with dry, straight hair, lead stylist Ryan Suhr gradually pulled sections of the hair straight back into a high, tight ponytail, applying a mixture of gel (Redken Blown Away 09 to control frizz), gloss solution (Redken Contour 08 Shaping Lotion leads to slick locks), and wax (Cutler Fly Away Control Stick makes sure not a strand goes astray). (Continued)

After securing the pony tightly with a hair tie, Suhr backcombed sections of the 'tail and wrapped each clockwise into a bun, securing the ends back into the hair tie and with a few bobby pins (time-saving tip: use a medium-sized boar-bristle brush to backcomb). For an all-day, heat-resistant hold, set with an ultra-firm hairspray like Redken Forceful 23.