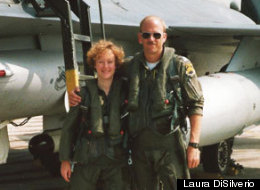 One of the reasons I started my website is that I wanted a place for women to come together and dream. We women need to know that we don't have to hang on to an old dream that has stopped nurturing us -- that there is always time to start a new dream. This week's story is about how one woman turned the page on a career in the military and became a mystery writer. -– Marlo, MarloThomas.com
By Lori Weiss
At just 20 years of age Laura DiSilverio received the kind of rejection letter many established writers only dream about. A romance novel she'd written as part of a college course had made its way to a senior staffer at a major publishing house, and the editor had taken the time to offer some proposed changes. To a seasoned writer, a letter like that would have been reason to celebrate. But as a college coed, Laura could only see rejection.
"I was young and dumb and I just cried," she recalls. "And not long after that I made my way down to the local Air Force recruiting office."
Laura's career choice couldn't have been more different from her original plan, but feeling dejected, she clung to the familiar. Her father had spent twenty-six years in the military and she knew he'd consider her recruitment a less frivolous career choice than tapping away at her typewriter.
"The people at the recruiting office gave me two choices," she laughs. "Public affairs and intelligence. I had no idea what intelligence was, but it sounded pretty sexy. So I chose that."
Thus began a 20-year career that moved Laura around the world and up the ranks of the United States Air Force. Her job was compelling: putting together pieces of various puzzles she'd receive from covert sources and spy satellite data, and unraveling potential terrorist threats. Little did she know, those skills she'd carefully honed in the military would set the scene for her next career move -- as a mystery writer.
"My husband Thomas had just come back from Iraq and we were on a little weekend getaway in Seattle. We were browsing through a bookshop when I had the most overwhelming feeling I'd ever had -- right there in the personal essay section. I just knew it was time to write again. And the next day, despite the fact that I'd been offered a promotion to colonel, I began to untangle myself from the military." It wasn't long before Laura began to craft her own personal essay of sorts. Without an agent or a contract, she began her journey back to where she started.
"I sat down at my computer and just started typing," she says. "I'd just read Stephen King's book, "On Writing." He said he writes 2,000 words a day. So I said, 'If it's good enough for Stephen King, it's good enough for me.' Sometimes it took three hours and sometimes it took six. But I wrote until I had every word."
Text Continues Below Slideshow
Military Mom Turns Mystery Author
Laura writes at least 2,000 words a day in her office when she's drafting a novel. She can see Pikes Peak from her window which is always inspirational. She credits her time in the military, plus her Type A personality, for helping her keep to a disciplined schedule.

Laura and her husband Tom at the Pikes Peak Writers Conference 20th Anniversary banquet. Laura has been involved with the Pikes Peak Writers since shortly after moving to Colorado in 2002. She has gone from attending the annual conference to lap up more experienced writers' knowledge in seminar and pitch her manuscript to agents, to helping to organize it as part of the steering committee, to being one of the faculty members the past couple of years.

At her first-ever book launch party in May 2010, Laura signs a copy of "Tressed to Kill" for some fans. The cake in the foreground was iced to replicate the cover of Tressed to Kill; Laura now provides a cake decorated with the cover of her new book at each of her launch parties.

Captain Laura celebrating her first ride in an F-16 with a friend at Kunsan Air Base, Korea. As an intelligence officer with the 8th Fighter Wing, the Wolfpack, Laura was eligible for a ride to familiarize her with the jet, its missions, and the Korean theater of operations.

Laura and pilot Major Marty Bischoff following her first F-16 flight over South Korea. She's particularly proud of the fact that she didn't get airsick, even though the pilots sometimes delighted in trying to make their backseat passengers throw up by pulling Gs, doing loops or barrel rolls, or similar nausea-inducing maneuvers. If her vision had been better, Laura would have loved to go to Undergraduate Pilot Training and fly jets for the Air Force; unfortunately, her blind-as-a-bat vision disqualified her so she became an intelligence officer (and loved it).

Laura making the "Juvat" sign (for the 80th Tactical Flying Squadron) from the cockpit of an F-16. "Juvat" comes from the squadron's motto--"Audentes Fortunat Juvat"--which means "fortune favors the bold."

Alex Trebek poses with Laura during a break from taping Jeopardy! which she competed on in 2009. She didn't exactly win enough to retire, but the sting of defeat was greatly reduced when she returned home from California to find a message from her agent relaying a three-book offer from a major New York publisher!

Panels are a fun way to interact with readers. Here, Beth Groundwater, Donnell Bell and Bob Spiller join Laura on a mystery authors panel at the Pikes Peak Writers Conference where they discussed how to plant clues, mislead readers with red herrings, and include the kinds of twists that keep readers guessing until the very end.

Outside a historical home in St. Mary's, Georgia, Laura and her mother, Joan Hankins, pause for a moment on a research trip for Laura's first published mystery, "Tressed to Kill," which she wrote under the pen name Lila Dare. The three books in that series feature the women who work in a beauty parlor on the Georgia coast.

Laura was the kick-off speaker for the inaugural Auraria Writers Week, a week-long celebration of writing co-sponsored by three Denver area colleges. She's pictured here with Dr. Bruce Degi, one of the event organizers and a friend from when she taught on the Air Force Academy faculty.

Laura poses with Mike McCarthy, organizer of the Avondale Writers Conference near Phoenix after her keynote speech in 2011. Laura says that one of the joys of becoming an established author is the opportunity to speak to groups of aspiring authors and encourage them.

A promotional photo for "Ella Barrick," the pen name Laura uses for the Ballroom Dancing mystery series she writes for Obsidian. People frequently ask why she uses a pen name. Primarily, it's because she writes for three different publishers who don't de-conflict publication dates.

Minotaur writers Brad Parks, G.M. Malliet, Tracy Kiely, Laura, and Sophie Littlefield prepare to bowl for charity at Bouchercon 2011 in St. Louis, Missouri. Bouchercon is the world's biggest mystery convention, attracting approximately 1500 fans, readers, and writers each year to celebrate mysteries in all their forms from the traditional and cozy to the bloody and noir.

Laura with her Wire-haired Pointing Griffon, Marco, who seems to think he should be the focal point of every photograph; indeed, he seems to think he should be the focal point of every social gathering and activity. She got him the summer she retired from the Air Force and he naps at her feet every day as she writes and insists on taking her for a walk when she needs a break.

Laura and panel "referee" Alan Orloff prepare for the "Sports in Mysteries" panel at the Malice Domestic convention in Bethesda, MD in April of this year. Laura discussed her research process for the Ballroom Dancing mysteries she writes as Ella Barrick. Even though she's not a competitive ballroom dancer, and first got the idea for the series from watching Dancing with the Stars, she has talked to dozens of professional dancers, studio owners, and judges, and attended several ballroom dance competitions, in addition to reading many books about serious ballroom dancing.

The Tattered Cover bookstore in Denver had a nice display of "Swift Edge" for Laura's signing there in November 2011. She likes to support independent bookstores whenever possible and The Tattered Cover is one of the best in the country.

Laura and her family at home in Colorado Springs, Christmas 2011.
As dedicated as Laura was to her writing, she was equally diligent about shopping for an agent. Unfortunately, the publishing world doesn't move quite as quickly as Laura does. She wrote an entire mystery novel -- and a sequel -- before she found someone to represent her.
"In the military, in the space of a week, we think we know where the enemy is," she says with a hint of sarcasm. "We put the troops in place, and we root them out. That's not quite the way it works in publishing. I have a hierarchy of rejection letters. It begins at the bottom with 'Dear Author, This sucks.' Then it moves up to 'Dear Laura' -- or Lori or sometimes Lauren -- 'This sucks.' The ones I'm really fond of arrive on one-sixteenth of a piece of paper: 'Dear Author, Best of luck placing your sucky writing somewhere else.' But sometimes you get invitations to re-submit and you start to interact with people and things begin to progress."
Two-and-a-half years into the process, Laura finally struck writer's gold. An agent she had contacted thought she might be the perfect fit for one of her colleagues. But even then, her first book deal wasn't for either of the two books she'd already written. The agent liked her style and thought she could craft a series for the Berkley Prime Crime imprint.
"They were looking for a series based in a Georgia salon about amateur sleuths. I figured, 'I was born in Georgia and I've certainly spent many hours in beauty shops.' So I said, "Sure, I can do this!"
And as fate would have it -- after years of trying to break in -- everyone began to say yes at the same time. Laura's agent had sent out a number of different manuscripts and series ideas simultaneously, and suddenly Laura had twelve book deals on the table. Some of them ("Polished Off" and "Tressed To Kill") would be published under the pen name Lyla Dare; and others, like "Swift Justice" and "Die Buying," under her own name.
"At that point it was almost panic time," Laura recalls. "That's a lot of work to take on at once. But I'm not one of those writers who waits for the muse to hit. For me it's a job. I don't believe in writer's block any more than I do lawyer's block or accountant's block. An attorney can't say, 'I'm not feeling the lawyer-ness right now, so I won't represent my client today.' Same thing with writing. You can't wait for the creativity. You have to force it."
But Laura warns would-be authors that not everyone takes a new writer's passion seriously -- and that those who are committed to the craft will have to stand their ground and keep moving, despite what others think.
"Telling people I was a writer before I had any books published elicited a lot of skeptical looks and invitations to bake cookies for the third-grade Halloween party, or to chair a church committee, or to babysit working mothers' children. That's when I learned you have to dig deep and find your own motivation.
"There's a saying: 'You cannot discover new oceans, unless you have the courage to lose sight of the shore.' Part of me wishes that I had been brave enough at age 20 to try this, and live on Ramen noodles and canned beans if I had to. But I would have been such a different writer. I've met so many amazing folks since then and had so many amazing experiences. So, yes, I regret not having been courageous enough back then. But I don't regret the end result."
Laura DiSilverio's next book, "Swift Run," will be published in November.
Add Marlo On Facebook:
Follow Marlo on Twitter:

Weekly Newsletter

Sign up to receive my email newsletter each week - It will keep you up-to-date on upcoming articles, Mondays with Marlo guests, videos, and more!

Sign up here