Annoying Parents: Teens Vent About Mom And Dad On Twitter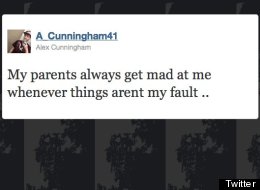 Most of the time, you're probably grateful for Mom and Dad. Whether they're offering advice on sticky situations or making your favorite meal for dinner, parents can be pretty awesome. But everyone has a pet peeve (or two or three…) about their parents. If you've ever argued with your 'rents about cleaning your room or dodged their awkward questions about your love life, take comfort in the fact that millions of teens share your pain. Click through the slideshow below to see what annoys teens the most about their parents.
Which tweet do you relate to the most? Tell us in the comments below or tweet @HuffPostTeen!