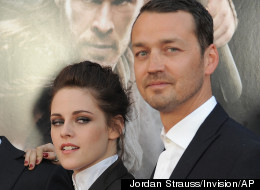 A day after US Weekly obtained photos of Kristen Stewart's "steamy rendezvous" with married director Rupert Sanders, the 22-year-old "Twilight" star has released a statement publicly apologizing to boyfriend Robert Pattinson for what she called a "momentary indiscretion."
Soon after, 41-year-old Sanders, who directed Stewart in "Snow White and the Huntsman," also issued a statement apologizing to his wife, model Liberty Ross, and the couple's two young children.
The blogosphere -- and "Twilight" fans everywhere -- may be shocked by the affair, but Stewart and Sanders are hardly the first pair to cheat after meeting on the set of a movie. Click through the slideshow below for six of Hollywood's most shocking on-set affairs.
Hollywood's Most Shocking On-Set Affairs
In 2004, rumors surfaced that co-stars Brad Pitt and Angelina Jolie were doing more than just acting on the set of the action flick "Mr. & Mrs. Smith." Pitt, who was married to Jennifer Aniston at the time, would go on to deny the affair allegations, as did Jolie, but tabloid reports continued nonetheless. In March 2005, Aniston filed for divorce from Pitt. Still, Jolie raised eyebrows again in October 2008, when she told the New York TImes that she looks forward to the day her six children with Pitt can watch "Mr. & Mrs. Smith." "Not a lot of people get to see a movie where their parents fell in love," Jolie said.

Before there was Brangelina, there was Elizabeth Taylor and Richard Burton. Screen siren Taylor famously took up with British thespian Burton while filming 1963's "Cleopatra." The only problem? Both were married at the time -- Taylor to fourth husband Eddie Fisher and Burton to Sybil Williams, his wife of fourteen years. On March 15, 1964, just nine days after her divorce from Fisher was finalized, Taylor made Burton her fifth husband. The couple divorced in 1974, remarried in 1975 and finally divorced for good the following year.

Academy Award-winning actress Ingrid Bergman was married to Petter Lindström, with whom she had a daughter, when she landed a role in Italian director Roberto Rossellini's film "Stromboli" in 1950. During production, which took place in Italy, she fell in love with Rossellini, who was also married at the time, and became pregnant with their son. A scandal ensued, culminating in Bergman being denounced by the U.S. Congress and virtually blacklisted by the U.S. film industry. "Hollywood wouldn't touch her," said James Robert Parish, the author of "The Hollywood Book of Scandals." Bergman and Rosselini married in May 1950 and later had twin daughters, but they didn't return to Hollywood until the late '50s.

Ben Affleck and Jennifer Lopez, also known as "Bennifer", met on the set of box-office bomb "Gigli" in early 2002, while Lopez was married to her second husband, Cris Judd. Three days before Lopez filed to divorce Judd in July 2002, People reported that the actress was already introducing Affleck as her "new boyfriend" to friends. Though the couple became engaged in November 2002, in the end, Bennifer couldn't stand the test of time; by January 2004, the relationship was over for good.

In July 2000, Meg Ryan and Dennis Quaid announced they were separating amid allegations of an affair between Ryan and her "Proof of Life" co-star Russell Crowe. A month before the filing, Ryan and Crowe (pictured here with director Taylor Hackford) were reportedly seen "cuddling, hugging, kissing" on set. Quaid and Ryan's divorce was finalized in 2001. Meanwhile, the actress' relationship with Crowe reportedly fizzled out after a few months.

Humphrey Bogart was 44 and married to Mayo Methot when he met and fell for 19-year-old Lauren Bacall weeks into shooting 1944's "To Have And Have Not." Within months, Bogart divorced Methot and married Bacall in May 1945. The pair remained married until Bogart's death, from esophageal cancer, in 1957.