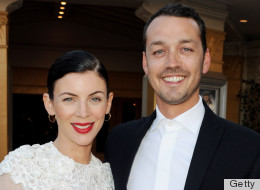 So as anyone with access to the internet or another human being knows, Kristen Stewart has issued a public apology to Robert Pattinson for cheating on him with "Snow White & The Huntsman" director Rupert Sanders. Noticeably absent from her statement? Any mention of remorse towards Sanders' wife of 7 years Liberty Ross. (Sanders also released a statement, but he made sure to apologize to his wife and children.)
Since the fashion model is being unexpectedly thrust into the spotlight, we decided to take a closer look at Sanders' wronged wife. Who is Liberty Ross? What has her career been like? For starters, the 33-year-old has two children with her film director husband. Although she's not exactly a supermodel here in America, Liberty's landed some major editorials and covers for Vogue, i-D and Elle.
Liberty's also proven to be quite the bankable face of a fashion brand, appearing in ads for Chanel, Dior and Burberry in the past. According to her IMDB page, she's also acted in a few small films before her husband cast her as Kristen Stewart's mother in "Snow White & The Huntsman." (Does that feel as creepy to you as it does to us?)
One of the saddest discoveries we've made was stumbling upon her blog for Vogue UK. The model wrote about vacationing with her husband and posted pictures of the paradise-like scenery just two weeks before the scandal broke:
We are getting some R&R on the north shore of O'ahu after a lengthy press tour for Snow White & The Huntsman. It's so beautiful here - we are staying in an artists house right out on a point with waves crashing either side of us.
Two days ago when rumors first began to swirl about an affair, Liberty retweeted, "Sometimes good things fall apart so better things can fall together." (She deleted her Twitter account that same day.) So if this cryptic tweet is any indication of her current state, then it looks like the mother of two plans to keep moving forward. As for her modeling career? We've said it before and we'll say it again: All press is good press in the fashion industry.
Take a closer look at Liberty Ross' style.
Liberty Ross' Style Evolution
Getty photo

Getty photo

Getty photo

Getty photo

Getty photo

Getty photo

Getty photo

Getty photo

Getty photo

Getty photo

Getty photo

Getty photo

Getty photo

Getty photo

Getty photo

Getty photo

Getty photo

Getty photo

Getty photo

Getty photo

Getty photo

Kristen Stewart is reportedly devastated over just released pictures that show her cheating on Rob with a married man. 22 year old Kristen was caught with photographic evidence, making out with her Snow White and the Huntsman director Rupert Sanders, a married man. To make matters worse, his wife Liberty Ross is in the movie. According to the photographer, Us Weekly reports, Kristen was sitting with her back against the drivers side window, and this guy was kissing her entire body.
Want more? Be sure to check out HuffPost Style on Twitter, Facebook, Tumblr and Pinterest.