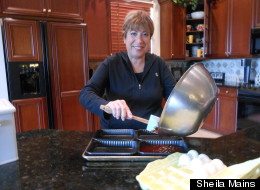 One of the reasons I started my website is that I wanted a place for women to come together and dream. We women need to know that we don't have to hang on to an old dream that has stopped nurturing us -- that there is always time to start a new dream. This story is about a woman who lost her high-powered position in midlife and reinvented herself using a hobby that she never expected to profit from. -– Marlo, MarloThomas.com
By Lori Weiss
Sheila Mains' love of chocolate goes back a long way. She'd sit by her grandmother's side as the tiny four-foot woman rolled out the dough for her favorite European pastries and help her mother bake brownies so there would always be something homemade in the house. And long after all the sweet ingredients were back on the shelves, Sheila would find her way to the secret stash.
"My mother would always say, 'Sheila, there's M&M's, there's Hershey's Kisses, why are you eating the chocolate chips?' I was just addicted."
That sweet addiction would serve her well. Sheila's passion made her very popular as she grew up. On the party scene, when she would ask what she could bring, the answer was always brownies and at work -- where she was an Executive Vice President with a corner office -- there was often a container filled with the dense chocolaty squares on her desk.
But while she loved to surprise her co-workers with her home-baked treats, Sheila never saw it as a business -- that is, until the age of 42, when she found herself in need of a Plan B.
"I worked for an industrial advertising agency," Sheila explained, "and we would put together manuals and user guides for computers. It was a thriving business until desktop publishing came into play and clients began building their own in-house departments. Our company was downsizing and we'd all talk about what we'd do if the day came that we were next. I'd kid about going into the brownie business. But I never thought I'd actually lose my job -- until I did, and I was devastated.
"There I was in the unemployment office, watching all the Friday afternoon casualties coming in and I realized I couldn't work for someone else, give them 150 percent and let this happen again. But I couldn't give less than 150 percent. So I had to work for myself. And it had to be the brownies. My Plan B really was a Plan B: brownies."
So Sheila went home that day and started baking. But now instead of bringing her brownies to the office, she was bringing them to local cafes and stores. Within a couple months, she had so much business that she moved into a commercial kitchen and began selling her brownies in tins. She even landed the phone number 1-800-Brownies and it wasn't long before she got the call of a lifetime. The local theme park in her area wanted her to come in for a tasting -- but this wasn't just any theme park -- the executive chef at the most popular travel destination in Florida was on the phone.
"Before I knew it, I had my first order for 37,000 brownies," Sheila said with a smile. "I think that was the point where my mother stopped asking when I was going to get a real job."
Soon Sheila became the primary brownie vendor for all of the company's parks and resorts in Florida and she was baking more than 1.6 million brownies a year. It was all rolling right along until 2008, when during the recession, Sheila's sweet deal began to crumble. And she found herself in need of a Plan C. Or at least a B Plus.
Story continues below slideshow.
It Ain't Over: Sheila Mains
When Sheila's original brownie business was in trouble, her sweet tooth led her to an innovative new product. Throughout the day, Sheila would go into the factory and nibble on the crispy parts of the brownies that stuck to the pan. Soon, she noticed that her bakers were nibbling too. She experimented with the new cookie-like brownie treats and Brownie Brittle was born!

A number of snack companies have tried to copy Sheila's recipe, ordering large batches of Brownie Brittle without even bothering to conceal their identities. Here, Sheila poses with Doug Scott, Vice President of Operations, alongside rows of pallets double stacked with Brownie Brittle.

By the end of 2012, there will be more than 2 million bags of Brownie Brittle on supermarket and warehouse club shelves. The company has already amassed 6 million dollars in sales this year and expects to earn up to 20 million next year. Here, Sheila poses in her office with photos of her brownies.

In 2010, Sheila had the thrill of her life when she and her husband were invited to a party in South Beach hosted by famous chef Paula Deen.

When Sheila was growing up, her mother and grandmother were constantly baking to ensure that there was always something homemade in the house. Sheila would lend a hand baking brownies and sneak chocolate chips when the ingredients were put away. Here, she is pictured with her mother the year that she began her brownie business.

Before she ever dreamed of going into the brownie business, Sheila was always surprising her co-workers with baked treats. Her brownies also made her popular on the party circuit.

Here, Sheila sets up for a trade show back in 1995. Now with Brownie Brittle, she does Fancy Food Shows, Sweets and Snacks and tradeshows hosted by distributors. This year, Brownie Brittle has made an appearance at 6 shows and will go to 2 or 3 more before the year closes.

When Sheila's deal with Florida's most popular destination was downsized during the recession, she proved her resilience by reinventing her product. Here, she poses with her pride and joy - Brownie Brittle.

Here, Sheila poses with Jerry Bello, President of Sheila G. Brands LLC at the Sweets and Snacks Expo where Brownie Brittle was nominated for the Most Innovative New Product Award.

In 2011, Brownie Brittle won the Best Cookie Award at the Palm Beach Festival of Chocolate.

In 2012, Sheila G Brands LLC partnered with the Cookies for Kids' Cancer organization, raising money for the foundation at an event in Manhattan. Sheila's stepson passed away from Ewings Sarcoma, a pediatric cancer, in April 2012.

Baking has always been an expression of love for Sheila. Whenever someone is ill or feeling sad, she'll whip out the pans and start baking to make them feel better. Her family's favorite treats are blondies (blond brownies), which she is seen mixing here.

Sheila's daughter Rachael grew up in a house where there was always something baking in the oven, just like her mom had. Here, she is pictured baking on her 5th birthday - with the chickenpox!

Before Sheila's prominent position at the advertising agency was eliminated, she joked about going into the brownie business. Today, this far-off fantasy has become a reality. Here, she serves her prize-winning brownies to her family for dessert.

Here, Sheila poses with the next generation of brownie bakers - her daughter and two granddaughters. When Sheila first started her business, her children would get up at 4:30 am to help make tins and platters of brownies for gifting at Christmastime - and never complained!
"People were trying to save their homes. They weren't going on vacation. And while we had other contracts, many of those were for restaurants -- and people weren't eating out as much -- they were just trying to keep food on their tables."
So at 60, Sheila took lemons, or in her case brownies, and turned them into lemonade. She reinvented herself once again -- along with her brownies, and created Sheila G's Brownie Brittle.
"I always loved the drippings on the side of the pan," Sheila explained. "While the brownies were moist and dense, the batter that landed on the side of the pan was thin like a cookie, and had this great burst of chocolate flavor. I'd go out onto the manufacturing floor in the middle of the day when I needed a chocolate fix, and collect the crispy parts that were left on the pans, but it got to a point where I'd have to go out when everyone was on break, because the bakers had discovered the same thing!"
Everyone was nibbling on the crunchy brownie brittle and that's when Sheila realized that her solution was right in the palm of their hands. So she went back to where it all began -- her kitchen -- and began experimenting.
It wasn't long before she perfected the process of creating just the crunchy part and brought in a partner with expertise in packaging, marketing and distribution. And in July 2011, Sheila brought her new product to the Fancy Food Show in Washington D.C., where she quickly got the attention of specialty stores across the country. But it wasn't just the grocers who were taking note -- Sheila had gotten the attention of the big boys -- big-name manufacturers who thought she had a great idea. But they weren't looking for a partnership. They wanted to recreate Sheila's product and knock her off supermarket shelves.
"One company came by our booth at the Sweets and Snacks Expo," Sheila remembered, "and asked for samples. It's not like they were even trying to hide who they were -- they were wearing name tags! I told them I'd give them samples after they signed a non-compete!"
And it wasn't just one manufacturer or even one try. Another well-known snack company placed several online orders -- and asked to have their purchase shipped to their corporate headquarters. The third time they ordered, they requested a dozen packages, and asked to have them sent overnight to a manufacturing plant in another part of the country. The woman, who never tried to conceal her identity, claimed she had an "event" that weekend.
"We called them the first two times," Sheila said, "and asked how we could help or if there was a way we could work together, but the third time, it was clear that they had some sort of meeting scheduled for that Monday, where they were going to discuss how to copy my recipe. So I went to Costco and bought twelve packages of little round brownies and shipped them overnight -- not our Brownie Brittle, but just some generic brownies. Imagine their surprise when the company executives, who had probably flown in from all around the country, opened up that box. Oops, must have been a problem with fulfillment!
"We haven't heard from them since."
But since then, Sheila has continued to stock supermarket shelves. Brownie Brittle was nominated as one of the most innovative new products at the 2012 Sweets And Snacks Expo and by October of this year, she'll have more than two million bags of Brownie Brittle on supermarket and warehouse club shelves, including stores like Costco, BJ's and Sams. All of that adds up to $6 million in sales this year, and next year the company is projecting another $20 million in revenue.
"The good news is we've created a product no one has ever heard of before. And the bad news is, we've created a product no one has heard of before -- so now the big manufacturers want to copy it. But we've created this out of passion. They're trying to copy it out of greed. By the time they get through all their focus groups and meetings, we'll have blanketed the market and put the best possible product out there.
"I've always believed that if you do what you love, the money will follow," Sheila continued. "No one could have ever talked me out of creating Brownie Brittle. And no one is going to take it away."
For information on where to purchase Sheila G's Brownie Brittle, you can visit http://www.browniebrittle.com/.
Add Marlo On Facebook:
Follow Marlo on Twitter:

Weekly Newsletter

Sign up to receive my email newsletter each week - It will keep you up-to-date on upcoming articles, Mondays with Marlo guests, videos, and more!

Sign up here