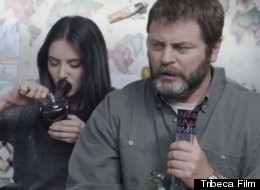 If you're suffering from a case of the mid-week blues, then you're in luck: For 75 glorious seconds, you can watch Nick Offerman, his wife Megan Mullally and Alison Brie blaze up. After all, they do have something to celebrate.
Tribeca Films announced on Wednesday that it had acquired the rights to Bob Byington's detached indie comedy "Somebody Up There Likes Me," starring Offerman alongside Keith Poulson and Jess Weixler. No, Brie is not in the movie, but does that even matter? The "Community" star was obviously on hand to help Offerman, who also produced the film, celebrate his good fortune. We hope this is how all NBC stars relax behind the scenes.
"Somebody Up There Likes Me" premiered to rave reviews at the South by Southwest Film Festival in Austin earlier this year. "Somebody Up There Likes Me" will be in theaters and VOD in March 2013.
Watch Offerman, Mullally and Brie blaze up in the video above. Then check out HuffPost Entertainment's list of the best stoner characters of all time -- from Spicoli to The Dude. Remember: please smoke responsibly.
Before he was BRAD PITT, Brad Pitt was just another guy making a bong out of plastic honey bear. Don't "condenscened" him, man. (Bonus: Young James Gandolfini!)

Not only do Marty's (Fran Kranz) pot-smoking ways help save him from the horrible secrets inside the cabin in the woods (cue: thunderclap), but he actually uses his collapsable bong to render a zombie incapacitated.

Anna Faris won "Stoner of the Year" from High Times for her loopy role in "Smiley Face."

Kumar (Kal Penn) has sex with a bag of weed. That is all.

Carl (Bill Murray) grows his own grass. And his own grass. "The amazing stuff about this is, you can play 36 holes on it in the afternoon, take it home and get stoned to the bejesus belt that night." Cannonball coming! (It's a little harsh.)

When a small earthquake strikes, Ben Stone (Seth Rogen) grabs his bong before his pregnant girlfriend (Katherine Heigl). His stoner bona fides are not fooling.

Dude's name is Smokey. "I'm gonna get you high today, 'cause it's Friday; you ain't got no job, and you ain't got shit to do." Noted.

"Did you ever look at a dollar bill, man?" Ron Slater, we'll catch you later. (Alternate: every other cast member in "Dazed and Confused.")

The Dude abides.

Thurgood (Dave Chappelle) may love weed, but he also loves ... well, women, too.

Remember when Sean Penn was funny and lighthearted and not dour and serious? If not, just pop in "Fast Times at Ridgemont High." Aloha, Mr. Hand!

Cheech and Chong: The O.G. stoners to remember on 4/20.