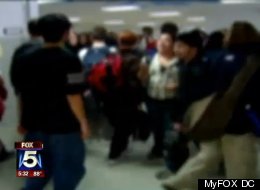 The Thomas Jefferson High School for Science and Technology, a prestigious Alexandria, Va. high school, has been hit with a federal civil rights lawsuit.
The Coalition of The Silence, a local minority advocacy group, and the NAACP filed a complaint to the U.S. Department of Education Monday alleging that black and Latino students, as well as students with disabilities, are being shut out of the school because Fairfax County consistently fails to identify them for gifted programs.
"Poor Latino kids are not being identified, and I worry part of that is language," Martina Hone of the Coalition of Silence told NBC Washington. "African-American kids are not being identified. I'm worried that's race."
The complaint alleges that the county "…essentially operates a network of separate and unequal schools," and that "for decades, these students have been grossly and disproportionately underrepresented in admission to the Thomas Jefferson High School for Science and Technology."
According to the complaint, 476 students comprise Thomas Jefferson's incoming class. Of those, 43 percent are white, 46 percent are Asian and just more than 8 percent are multiracial. Black students, however, comprise just 0.6 percent -- or three students -- while Latino students only comprise 2.1 percent of the class. By contrast, black and Latino students make up 32 percent of Fairfax County's student population.
Fairfax County Public Schools officials declined requests for comment by several news agencies, but a spokesperson told MyFOX DC that the district does reach out to minority students interested in attending Thomas Jefferson. The district has also in the past tried to close the gap by trying new ways of identifying gifted children, but some minorities remained systematically underrepresented.
Critics argue that students are discriminated against long before they even apply to the school. Of the students admitted to Thomas Jefferson, 64 percent attended top-tier advanced academic middle schools -- most of which are limited in diversity, according to the complaint. To correct the high school's racial imbalance, the plaintiffs argue that the entire district's pipeline must be reformed.
"We must invest in K-3rd [grade, early] education, which helps us to not only identify underrepresented gifted children but to make sure they receive all the services that they should have," Fairfax County NAACP Education Chair Charisse Espy Glassman told the Fairfax Times. "We must also look at the twice exceptional children who fall through the cracks."
Thomas Jefferson regularly ranks among the nation's top public high schools, snagging the No. 2 spot on this year's U.S. News and World Report list of best U.S. high schools as well as the No. 2 spot for the magazine's 2012 list of best high schools for science, technology, engineering and math.
Gary Orfield, a professor who directs the Civil Rights Project at the University of California-Los Angeles, tells the Washington Post that the underrepresentation of minority students in gifted programs is not unique to Fairfax.
"It's ubiquitous," he said. "And it really does tell us something about the poverty of our concept of giftedness, because it's so related to the concept of family income and privilege."
The Education Department's Office of Civil Rights oversees enforcement of laws that prohibit school discrimination on grounds of race, color, national origin, gender, age and disability, and can freeze federal funding to districts that fail to correct civil rights violations.
While the civil rights office can elect to open an investigation into the complaint against Fairfax County Schools, it is not obligated to do so. Taking a look into the allegations would unveil previously unavailable data and admissions processes, Hone told Mount Vernon Patch.
"We felt it was our responsibility to sort of lay out with as much clarity as we could what we think the actual problem is… a lot of the conversation has been around the edges but there's something much bigger going on that we have to deal with," she told Patch. "We'll see what happens. I'm hopeful."
U.S. News Best High Schools 2012 (Top 15)
Located in Hyannis, Mass., "Sturgis Charter Public School is dedicated to an "International Baccalaureate (IB) for All" philosophy, preparing high school students for higher education in a supportive learning environment. Sturgis provides each student a rigorous world-class educational program, encouraging academic achievement, intellectual confidence, and personal growth."

Located in East Hartford, Conn., "The Connecticut IB Academy, a public high school with worldwide academic standards, connects a rigorous, pre-university curriculum to the world beyond the classroom by demonstrating the inter-relationships among the academic disciplines, by promoting international understanding, and by establishing a balance among academic, artistic, and social activities in order to produce responsible, ethical, thoughtful and informed citizens who are prepared to be global leaders.

Located in Henderson, Nev., Green Valley High School believes that "the purpose of education is to provide experiences which will encourage and assist students to achieve their potential and to assume their responsibilities as members of society. It is the obligation of the school to instill in students positive attitudes toward growth, learning, leadership, and creativity, as well as ensure their full intellectual and character development."

Located in Dublin, Calif., Dublin High School "is a four-time California Distinguished School. It is the only comprehensive 9-12 public high school in the Dublin Unified School District."

Located in San Marcos, Calif., San Marcos High School, the flagship high school in the San Marcos Unified School District, "currently serves a population of 2041 students from west San Marcos and communities south of the 78 freeway.... San Marcos students connect with their campus by participating in over thirty clubs and organizations and a full range of athletics and performing arts options."

Located in Lincroft, N.J., High Technology High School is "a specialized school concentrating on the disciplines of science, mathematics, and technology.... Since its founding in 1991, the application and admission process has become increasingly competitive. Seventy-five students are selected each year from a pool of over three hundred outstanding applicants. This totals to approximately 265 students from throughout Monmouth County."

Located in Bellevue, Wash., the International School "offers the finest educational experience to all of its students, one which is unsurpassed in preparing them intellectually, socially, creatively, physically, and emotionally, so that they are inspired to become lifelong learners and realize their dreams in the world at large."

Located in Santa Cruz, Calif., Pacific Collegiate School's vision is to "offer any student the same quality of education offered by the most academically distinguished schools in California.... Pacific Collegiate School will emphasize international, cross- cultural, and technological education in order to prepare graduates for life in the 21st Century. Pacific Collegiate students will be introduced to the rich variety of world cultures and become fluent in at least one foreign language. They will become proficient in the basic information technologies essential for cultural literacy in the 21st Century."

Located in Cypress, Calif., Oxford Academy's mission is "to prepare students to be ethically and academically focused for entrance into college/university. OA is a seventh through twelfth grade college preparatory public school that opened in September of 1998. Recognized as a California Distinguished School, OA draws students from the entire attendance area of the Anaheim Union High School District."

Located in Tucson, Ariz., BASIS Tucson is the flagship BASIS School. "BASIS seeks to provide an accelerated liberal arts education at internationally competitive levels for all students. The rigorous college preparatory education at BASIS readies students for the competitive admissions process, helps them become eligible for scholarships, prepares them to prosper at top colleges, and enriches their lives."

Located in Bloomfield Hills, Mich., the International Academy "is a public, tuition-free high school of choice for students of 17 Oakland County school districts collaborating in consortium with university and business partners. Commencing with 9th grade, it provides a unique blend of rigorous academic standards, practical and career-related learning as well as personal development opportunities."

Located in Tucson, Ariz., University High School's vision is to "be the premiere regional college preparatory school that serves academically focused and intellectually gifted students by providing a rigorous and challenging curriculum and by offering programs that reflect the diverse backgrounds, talents and cultures of our students within a supportive school wide community."

Located in Dallas, Texas, the Science and Engineering Magnet High School "is a learning community established to provide students with a rigorous college preparatory, academic and technical program relating to the sciences, mathematics and engineering fields."

Located in Alexandria, Va., Thomas Jefferson High School for Science and Technology's mission is "to provide students a challenging learning environment focused on math, science, and technology, to inspire joy at the prospect of discovery, and to foster a culture of innovation based on ethical behavior and the shared interests of humanity."

Located in Dallas, Texas, the School for the Talented and Gifted's mission is "to provide an environment in which the unique worth, dignity, and abilities of each individual are not only recognized but cultivated and celebrated as well. We wish to provide an educational experience that empowers highly capable students to interact with their intellectual peers in academic, creative, aesthetic, and social endeavors in order to meet the challenges of today and tomorrow and to become life-long learners, responsible citizens, and contributors to the betterment of society as a whole in an ever-changing world."