E.T. The 'Singing' Walrus Amazes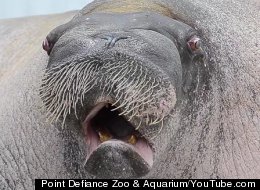 While the walrus is best known for its unique, hangdog look, the aquatic mammal can also make quite the array of interesting sounds.
E.T., a 30-year-old walrus at the Point Defiance Zoo & Aquarium in Tacoma, WA, displays a wide range of vocal talents -- he can growl, bellow and roar, among other rather aggressive vocalizations. And the well-trained beast can do so on demand.