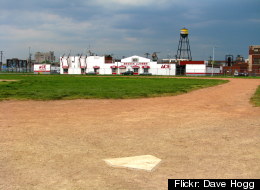 Almost 13 years after the Detroit Tigers played their last game at their historic playing field at Michigan and Trumbull, a new concept has emerged for reusing the old Tiger Stadium site.
Three sources familiar with the idea say the City of Detroit is talking with the Parade Company, the non-profit organization that runs the city's Thanksgiving Day parade and other special events, to buy the site and build its new headquarters, warehouse, and operations center there.
The idea remains tentative. No deal has been signed, and success would depend mostly on the Parade Company raising the estimated $15 million or more it would need to build the facility.
Photo: Dave Hogg via Flickr.