Olympians Hugging Their Moms And Dads Throughout History (PHOTOS)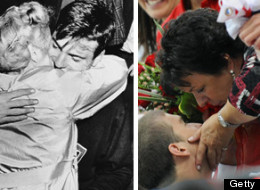 After Michael Phelps won his eighth gold medal (and broke his seventh world record) in the Beijing Olympics in 2008, the swimmer was overwhelmed with emotion and reportedly said, "I just want to see my mom."
When Phelps found his mother, Debbie, "She cried. He smiled," The New York Daily News said. And they hugged.
Images of that mom-son duo embracing were everywhere. Of course, Debbie Phelps was not the first parent to have an emotional reaction at the games.
P&G has built a tear-jerker ad campaign around the notion that being an Olympic mom is an intensely rewarding gig.
As we head into Summer Olympics 2012, we thought we'd look back on some of the best moments of parental pride. After finding all of the amazing photos below, we really can't wait to see who ends up hugging it out in London.