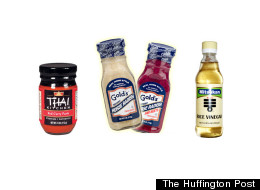 If you like to experiment with cooking different cuisines, you're cupboard probably looks like ours: a chaotic and crowded stockpile of great, exotic (and sometimes not-so-exotic) ingredients we've used once, maybe twice. From preserved lemons to ponzu, most of us well-stocked home cooks have all the ingredients necessary to make any recipe under the sun. The only problem is, we usually don't.
It's easier to prepare something you know than search for recipes that make use of those unfamiliar ingredients. But you're in luck, because we did the work for you. Click through the slideshow below to get recipes for some of the most common uncommon ingredients.
Recipes: Grilled Rib Eyes with Mushrooms and Fish Sauce recipe Vietnamese-Style Shrimp and Watercress Stir-Fry recipe Honey-Glazed Baby Back Ribs with Whiskey Marinade recipe Fish sauce is often used as a flavoring while cooking but it's also a main ingredient in dipping sauces.

Recipes: Spicy Brussels Sprouts with Mint recipe Ginger Vinaigrette recipe Crisp Asian Salmon with Bok Choy and Rice Noodles recipe Since rice vinegar is typically milder than Western vinegars it can be used a lot more liberally than most vinegars.

Recipes: Harissa Chicken with Green-Chile-and-Tomato Salad recipe Curried Chickpeas recipe Herb-Marinated Chicken Skewers with Harissa recipe Harissa, spicy and flavorful as it is, can be used in so many different ways. It's a great option for marinades, but also works well added to chopped vegetable salads and dressings.

Recipes: Honey Sesame Shrimp "On the Barbie" recipe Asian Chile-Garlic Chicken Wings with Sesame recipe Asian-Style Seared Beef with Sesame-Onion Noodles recipe Sesame oil packs a powerful punch, so you should use it sparingly. But once you figure out the proper proportions, you'll be adding it to many dishes, salad dressings and marinades.

Recipes: Preserved Lemon-Rubbed Rack of Lamb with Israeli Couscous recipe Roast Chicken with Preserved Lemon & Braised Vegetables recipe If you're not used to cooking with preserved lemons, it can take a while to get into using them. But once you do, you'll be enjoying so many more delicious home-cooked meals.

Recipes: Goan Shrimp Curry recipe Salmon Club Sandwiches recipe Crisp Noodle Pancake with Tamarind-Glazed Chicken recipe Tamarind can easily be incorporated into Asian stir-fries and curries -- and it adds an umami flavor to dishes.

Recipes: Soy-Glazed Sweet Potatoes recipe Creamy Split Pea Soup with Meyer Lemon Zest and Thyme recipe Crisp Sushi-Rice Cakes recipe Mirin is a great ingredient to use in marinades and sauces. It tenderizes meats and thickens sauces.

Recipe Grilled Eggplant Salad with Jerusalem Flavors recipe Roasted-Cauliflower-and-Sesame Spread recipe Middle Eastern-Inspired Chicken recipe Tahini is not only an important ingredient in middle eastern sauces, but it can also be used to make vegan soups creamy and as a binding agent in place of eggs for savory dishes.

Recipes: Thai Red Curry Mussels recipe Grilled Pork Tenderloins with Vegetable Curry recipe Red Curry Clams recipe Curry paste makes great curries, and there are so many variations of this dish you can make. You could eat a different one every night for a month.

Recipes: Creamy Chilled Cucumber Dill Soup recipe Potato-Horseradish-Crusted Mahi-Mahi recipe Horseradish Green Beans recipe Prepared horseradish packs quite a punch, so it might be intimidating to use. But, with the right dishes, it melds in perfectly.

Recipes: Broccoli with Black Bean-Garlic Sauce recipe Grilled Sea Scallops with Cilantro & Black Bean Sauce recipe Black bean sauce, which we often use in place of fermented black beans called for in Asian dishes, is more versatile than you might think. It dresses up vegetable side dishes and adds flavor to grilled seafood.

Recipe: Get the Bacon-wrapped Rice Cakes with a Jalapeno Ponzu recipe Ponzu is a light and thin mixture of mirin, rice vinegar, citrus and sometimes soy sauce. It brings great flavor to dipping sauces.

Learn how to make Lemon Tahini Sauce.