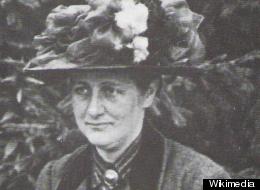 It's difficult to imagine what childhood would have been like without Beatrix Potter. The author and illustrator's tales of Peter Rabbit, Benjamin Bunny, and other rambunctious, human-like woodland creatures inform kids of the dangers of being rambunctious, while simultaneously encouraging their curiosity.
Potter was born on this day 146 years ago, and we're pleased that her legend has lived on. To celebrate her birthday, we'd like to share some of her precious drawings accompanied by her smart and typically playful wisdom, such as her relief about her lack of a formal education.
Check out these 11 quotes by Beatrix Potter:
"Once upon a time there were four little Rabbits, and their names were--Flopsy, Mopsy, Cottontail, and Peter."

"I cannot rest, I must draw, however poor the result, and when I have a bad time come over me it is a stronger desire than ever."

"There is something delicious about writing the first words of a story. You never quite know where they'll take you."

"I remember I used to half believe and wholly play with fairies when I was a child. What heaven can be more real than to retain the spirit-world of childhood, tempered and balanced by knowledge and common-sense."

"Most people, after one success, are so cringingly afraid of doing less well that they rub all the edge off their subsequent work."

"I hold that a strongly marked personality can influence descendants for generations."

"All outward forms of religion are almost useless, and are the causes of endless strife... Believe there is a great power silently working all things for good, behave yourself and never mind the rest."

"Thank goodness my education was neglected."

"Thank God I have the seeing eye, that is to say, as I lie in bed I can walk step by step on the fells and rough land seeing every stone and flower and patch of bog and cotton pass where my old legs will never take me again."
[CORRECTION: An earlier version of this article stated that Beatrix Potter was born 156 years ago.]